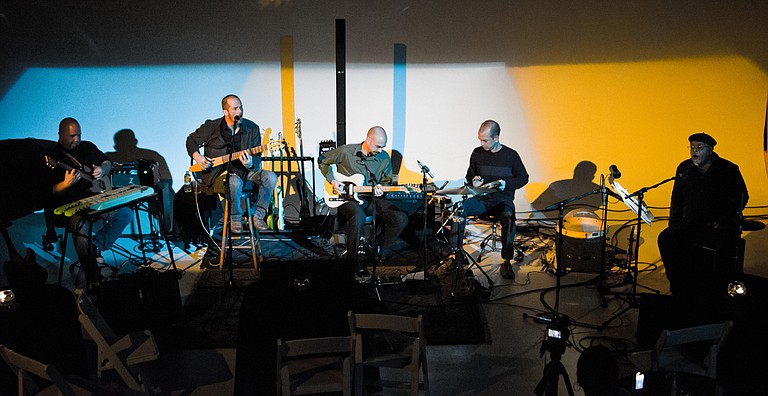 Wednesday, September 16, 2015
Long before Jackson musicians Joey Plunkett and Vince Johnston launched samba-infused jazz-rock group Paperclip Scientists, they were writing songs while huddled around a four-track recorder.
Johnston, whose parents are missionaries in northeastern Brazil, moved in with Plunkett's family in Clarksdale while the two were still in high school, and not long after, they began fleshing out their first tunes.
For almost a decade, Plunkett and Johnston played in progressive-rock band Geronimo Rex before the group disbanded in 2009. Then, in 2011, they met velvet-voiced singer and percussionist Adib Sabir, who was recording a jazz project at Johnston's Brudog Studios in Pelahatchie.
"We heard him sing, and I was like, 'Man, we've got to do something that he would want to sing on," Plunkett says. "We took a couple of our songs and reworked them into a format that we thought might appeal to him. We showed them to him and started with three or four, which turned into 30 or so."
Johnston and Plunkett began regularly writing and demoing new tracks, calling the group "Project Paperclip" at first, a CIA-like codename that matched the level of secrecy that surrounded the music itself.
"Nobody knew about it, and we didn't want to tell anybody because we were still trying to dupe Adib into singing on it," Plunkett says. "It was such a departure from what we'd done, but we both like Brazilian music and reggae and jazz and all these (genres). We aren't standard players, though, so we said, 'How can we be true to all these things we like, bring them together and make something different out of it?'"
These days, Sabir has become a permanent—and compliant—member of Paperclip Scientists, alongside Plunkett on acoustic and backing vocals, Johnston on electric guitar, and his brother, percussionist Ky Johnston. To keep their sound exciting and fresh, the band mates often bring in additional musicians, many of whom come from Sabir's infinitely long list of talented friends. Through his years in the Jackson music scene, Sabir also became acquainted with Cassandra Wilson and Rhonda Richmond, who connected him with Ojah Media Group. That relationship paved the way for Paperclip Scientists' debut full-length album, "The Quest for the 100th Monkey," which hits stores Tuesday, Sept. 22.
Plunkett, Sabir and Johnston handled nearly every angle of production themselves and brought in a variety of Mississippi musicians to bring out new angles in the songs, including guitarists Daniel Karlish and Ryan Rogers, keyboardist Tyler Kemp, bassist Johnny Hubbard and percussionist Rufus Map. Of course, there's always room for an out-of-state ringer like bassist Bryan Beller, who has played with acts such as Steve Vai, Joe Satriani and Dethklok.
"It gives the music a different flavor," Plunkett says. "They could hear what I did and get a basic vibe, but it was like, 'You don't have to stick to anything. You're the guy.' Either it's going to work or it's not. A lot of it worked, and we're pleased with how it came out and pleased with the experience of working with these different musicians."
Fans of the album can also expect a different experience when they catch the band in person. As Paperclip Scientists developed over the years, the members found their live sound drifting further from the sound of the new album. And that's OK, Plunkett says.
"One thing I like about Brazilian artists is that they're constantly changing formats, how they do things, but the song remains the same," he says. "Every time you do that song, it's an interpretation of it. It doesn't have to be exactly like it was on the album. That's a photograph. That's a point in time. Every live performance after that, having different interpretations of it makes the music richer and more accessible to different people at different times."
However, Paperclip Scientists has two elements that they don't plan on changing: soul-bearing lyrics and pure musicianship.
"It's not contrived," Sabir says. "There's no big trick. It's exactly what it is. It's good, sincere, honest music. I think people like that and need to have that. We didn't go in a studio and use auto tune. This is real musicians playing real music."
Paperclip Scientists' album, "The Quest for the 100th Monkey," is available on iTunes, Amazon and CDBaby Tuesday, Sept. 22. For more information, visit paperclipscientists.com.