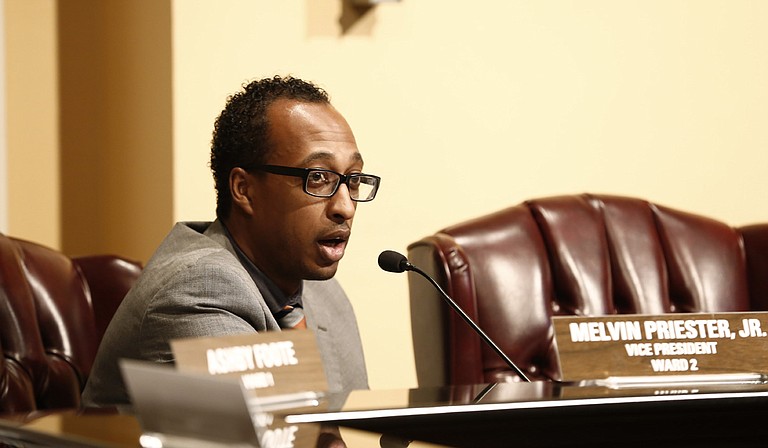 Friday, September 4, 2015
Property owners in Jackson will see their tax rate remain unchanged from last year, but the city anticipates lower revenue collections from property taxes.
After a very short public hearing last night on the proposed millage rate—the amount per $1,000 used to calculate local taxes on property—the Jackson City Council approved a millage rate of 58.03 with anticipated revenues of $1.14 million per mill.
Nonetheless, the city will rake in at least $926,000 less in property taxes because the overall assessed value of property in Jackson went down, officials said.
Council President Melvin Priester Jr., of Ward 2, said the millage rate and proposed amendments to Mayor Tony Yarber's budget would avoid a sizable tax increase. In his first budget draft, Yarber proposed an 8-percent tax increase but later backed away from that plan after the council proposed several cuts. Yarber also proposed furloughs for most full-time employees to help fill a $15-million budget gap, and has said furloughs are still an option.
"One of the main lessons of places like Detroit is when you have a population drop you can't rely on raising taxes on the people who are staying behind. You have to find savings," Priester told reporters after the meeting at City Hall.
The council plan includes giving less money upfront to the Jackson Zoo, spending less on outside consultants and freezing unfilled jobs, but it does not completely bridge the deficit. However, Priester said the City can also restructure some of its bond debt to reduce the amount of debt service—funds needed to apply toward principal and interest on loans—over the next three years.
Priester said restructuring the debt could net another $5 million to $6 million in savings, possibly negating the need for furloughs.
The council meets again Thursday, Sept. 10, for a public hearing in City Hall, when they will vote on the proposed budget.
By law, the budget must be in place by Sept. 15.