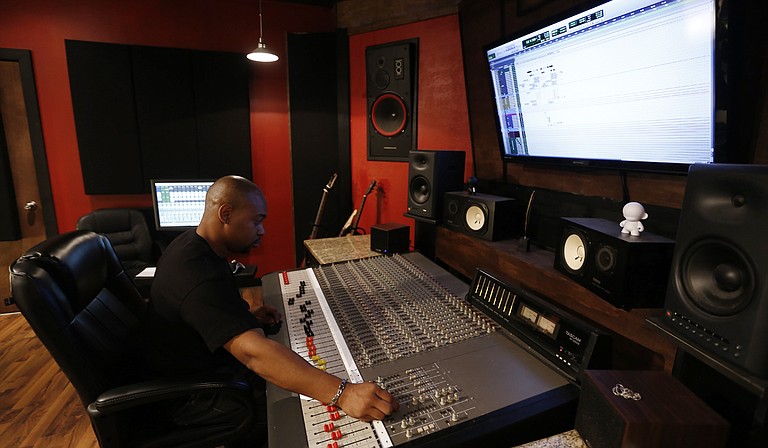 Wednesday, October 14, 2015
Audio engineer Leroy Jones Jr. leaned back in his leather office chair, as vocalist Los Brown sang layers upon layers of vocal tracks in a separate room. Two-feet-tall speakers funneled the background "oohs" and "bum-bums" of the R&B artist's latest single, "Fight for Love," into the mixing suite. A mutual friend, Nicholas Ratliff, filmed the session on his smartphone via Periscope so that Brown's fans could watch the process.
Each recorded harmony appeared as a different-colored rectangle, spanning the length of a wall-mounted flat-screen monitor, which Jones controlled with a smaller second monitor, keyboard and mouse pad on a rolling apparatus. A red bar enveloped a yellow bar as Brown sang over the knock of a click track—a tempo-keeping layer of the recording that is removed from the final song.
Jones leaned his chin on his hand while he listened, comparing the in-studio vocals to a previous raw recording that Brown brought him to mix. After Jones began working with that version, though, he found artifacts—accidental qualities within a song that can be result of data compression or other manipulations of the sound. The two worked out a price and decided to record from scratch.
"All right," Jones said, hitting the space bar to stop the click. "I'm lost. This doesn't sound like the same song."
Brown agreed. He had plenty of vocal ideas but was having trouble picturing how they blended. Jones suggested that they make a scratch track—a temporary track that provides a base for recording permanent elements of the song—of only the lead vocals to make sure each harmony would contribute to the final product.
As Brown sang the lyrics over the harmonies from behind the wall, the song took shape, and the errors became clearer. At times, Jones jotted notes and time markers for himself—things to fix. At others, he just let his head sway with the soulful melody.
"See, now we're getting somewhere," he said, smiling.
Get Out, Don't Leave
Jones, the owner of recording studio Sonic Signature, has lived in Jackson his whole life and has produced music for a large amount of that time. In 1999, while Jones was in the ninth grade at Murrah High School, an upperclassman who had access to a studio invited him to come try his hand at engineering. He proved to have an aptitude for it and began working in the studio during his free time.
In 2003, Jones began recording professionally at 17 years old, and a year later, he opened his first commercial studio off North State Street. He launched Sonic Signature in 2006 and has moved the studio numerous times, most recently from a space off Highway 80 to its current home at 1859 S. West St. in April 2015.
"I outgrew it," Jones says. "I dealt with probably 300 people in one year's time the last year I was in that building. ... That was the plan. It was a temporary location until I found something bigger. This building has been great, honestly. We're probably going to be here for four or maybe five years, but I don't plan on stopping here."
Thanks to a background in construction that stems from his contractor father, Leroy Jones Sr., Jones has done extensive work to update his location for well under $2,500.
"That's kind of a slight advantage I may have because I can make it into whatever I want it to be versus I know other people, once they get in a spot, they're paying someone, and they probably have to stay there," he says.
While Jones is capable of recording everything from full rock bands to solo rappers at Sonic Signature, he isn't a stationary enterprise. In fact, half of his production and engineering projects take place outside Mississippi. Clients often pay to fly him out all over the South to work on projects. He enjoys the travel, of course, but it also makes practical sense.
"It keeps me from having to figure out a way to put all the tools I need in a market that really can't support the amount of money I'd have to put here," Jones says. "You know, I can go to Atlanta, go to a studio that has millions invested into it and do what it is I need to do, for a fraction of what I'd have to pay to put it here."
For example, if he were to purchase a Solid State Logic console, he would spend around $500,000. Even some smaller items such as Pultec equalizers cost about $4,000 each. So, Jones asks, if someone already has those amenities and only charges $1,500 to use them for a session, why waste money?
That doesn't make it cheap for the recording artist. Jones admits that his prices are steep for Jackson, even higher than local industry staple Malaco Records. But charging more helps "weed through the nonsense," he says, and it also makes time for better-paying, non-music projects in film, TV and spoken audio.
Sonic Signature is a far leap from Jones' first studio, which only charged $25 to $35 per hour. However, this eventually opened the door to working with rising local acts like Dolla Black, Recognition and Storage 24, with whom Jones is currently recording an album.
"I don't regret charging that amount because it helped me get to where I am," he says. "I was 18, and that was a time when there weren't a lot of people recording their own music, so with me being young, I was probably the cheapest studio in the entire city. ... But now, anybody as far as urban is concerned or R&B is concerned, they know who I am."
With his increased profile, Jones receives more calls than ever from acts that don't understand the role that studios play in the recording industry. Many of these callers say they don't have any money but plead for a chance. Now, if only he could call his power company and say the same thing, Jones jokes.
"They feel like this is a record label," he says. "I believe that if we had some type of way to get people to understand the structure of the music industry, even people who don't aspire to be an artist, they would understand it is a business. ... It has a structure just like any other industry. You have a record label. You have a studio. They're two separate things. Some record labels own a studio where they can send their artists, but they're two separate things. I'm not Puff Daddy."
That isn't the only misinformation floating around the music scene. He often hears people say they need to get out of Mississippi to succeed. He agrees, but not in the way others think. Instead, Jones urges industry hopefuls to travel and to make connections with established professionals around the country and the world.
"Get out of the state as much as you can," he says. "Don't leave the state; I would never tell anybody to leave the state. This is your foundation. This is your support because if you leave the state, it's like you're starting all the way over at age 1."
Home Base
Producer Casey Combest has plenty of incentive for keeping the local recording industry thriving, as well. For many years, it's been his home, in more ways than one.
In 2002, he began recording music in his dorm during his freshman year at Mississippi College, which allowed him to explore his interest in recording gear and to demo music for his now-defunct band, Captain & Company. Combest maintained that home-studio milieu when he opened Blue Sky Studios, but his reasons for recording have changed.
Growing up in the music scene, he had plenty of friends who would travel to major music hubs like Los Angeles to record at high-priced studios. The tracks would sound good, but more often than not, his friends would come back frustrated with the process and a producer's unfulfilled promises.
"I wanted to be able to help people do something that was full of integrity on the business side but also excellent sounding," Combest says.
He concedes that there was a level of naivete in beginning a studio hoping to be better than much more expensive and experienced producers, and there were situations in which he had to learn from mistakes. He remembers plenty of equipment purchases that he thought would impress clients only to be all but ignored. Instead, he has realized that people more often respond to the studio space itself and how it affects their creativity.
"It's easy when you first start to get confused and think recording is about the gear or even about the end product," Combest says. "While that's vastly important, what's most important is the people and helping them tell their story, helping them achieve what they want to achieve."
Thankfully, most clients don't expect the same results from Blue Sky as they would from a studio that charges $10,000 per song.
"I hope that I'm narrowing the gap some as I continue to improve my craft," he says. "I think that's the big thing: Those people see it as their craft. They've been doing it longer, and their ears are more attuned to what's going on. I think that's one side of it, the craft, and the other side is savviness to the market and realizing what trends are going on."
While Combest has produced music under the Blue Sky Studios moniker since 2009, he decided to focus on recording full time in 2013, shortly after he and his wife of four years, Ryen Combest, moved to Jackson. These days, he has a steady stream of studio projects, both in and outside of music, which he divvies between himself and his part-time employees, engineer Justin Patterson and editor Bobby Hansford, based on their different sensibilities.
Leaving a position at Madison's Ridgecrest Baptist Church, where he assisted with worship and youth, for a career in recording wasn't without risk, but his studio workload began to take more time than he could devote to it.
"It got to the point where I had to choose between doing my full-time gig well or doing my part-time gig well, and I enjoyed the part-time, which was recording, a lot more," Combest says.
So far, he says, people's reactions to learning about his career decision often fall into two categories.
"If they have no idea about the music industry, they assume it's a lot more glamorous than it really is, like there's more money, or I just set up a mic and sit on a couch once a week," he says. "Or there's the opposite, where it's, 'What are you thinking? You have a family. You should get a real job.'"
Since he and his wife had their first child, daughter Addison, in August of this year, the latter response has been on his mind more often, especially given that his home studio puts his work right in front of him at all times.
"I think it would be similar to if you were working late in the office and wanted to go do something social or take off," he says. "But the way it would be different is that your wife isn't sitting in the cubicle next to you."
However, his wife's support of his work, even with a newborn, has been one of the strongest factors in keeping Blue Sky together.
"Seriously, it wouldn't be possible without her being so understanding and loving music and ... allowing me to do what I love, my dream," Combest says.
Since entering the Jackson recording arena, he's seen his family grow in other ways, too. Combest says there's a surprising level of cooperation between studios in the area. He often rents studio time from Malaco Records, and recently, he even helped Kamel King, the director of operations at Terminal Recording Studios in Ridgeland, to develop triplet bluegrass trio Long Time Coming, one of the winners of Terminal's talent-scouting event "The Search."
"I think competition can be a good thing because it makes you work harder, but it can be bad (when) it makes you lose sight of your clients and who you want to serve," Combest says. "And I don't think that happens here."
One thing that Combest says keeps competition in the metro area healthy is that each studio has areas in which it most excels. To him, Blue Sky is best at working alongside artists to create something for a target market. But that doesn't mean that all the work falls on the producer.
"There's not a plug-in for everything," he says. "You can't fix bad playing. ... If you play like crap, I can make you sound 20 percent better."
Opening Shop
For many fans of blues, soul, and gospel, Malaco is still one of the most significant names in the Jackson music scene. Tommy Couch, his brother-in-law Mitchell Malouf and college friend Gerald "Wolf" Stephenson founded the company first as a show-promotion business called Malaco Attractions in 1962 before opening a recording studio at 3023 W. Northside Drive five years later. Throughout the'70s and '80s, artists such as Dorothy Moore, Johnnie Taylor, Z.Z. Hill and Denise LaSalle filed through the studio, dishing out a number of hit songs.
The company, now Malaco Music Group, owns 11 subsidiary record labels and six distributed labels, and has mostly moved toward distribution, as well as licensing for television, film and samples. However, a talk with Chief Engineer and Head of Studio Operations Kent Bruce reveals that Malaco hasn't stepped as far from the spotlight as one might think.
"They shot some of the James Brown movie here, and I've been, you know, not just making records," he says. "I did voiceovers for 'Blue Bloods' on CBS, a couple ADR (automated dialogue replacement) sessions for some movies, where the talent, whoever was in the movie, is in this location. ... It's a whole big mix, but we do everything."
Bruce, a Jackson native, began pursuing a career in the music industry after high school. He knew that he and his friends weren't going to be rock stars but loved music, so he left Mississippi in 1989 and worked at studios in cities such as Nashville and Seattle, doing whatever chores he could find to stick around. Soon, he got more involved with recording, even assisting on albums for Widespread Panic and Lynyrd Skynyrd before deciding to return to Jackson in 1995.
"You sort of have to figure out in your life what you want to do," he says. "Rock and roll is fun, you know, and I've done it, but at some point, you start getting older and you start going, 'OK, I've got to get some more permanence.'"
Shortly before moving back, Bruce approached his high-school friend Tommy Couch Jr., the current president of Malaco Music Group and son of founder Couch Sr., about a job, and he has worked there ever since. For the last few years, that has included plenty of new music from local acts, but only a short while ago, that wouldn't have been true.
When Bruce joined Malaco in 1995, the studio had already been "closed-shop," he says, recording only projects from the company's own artists since the mid-1970s. Then, in April 2011, a tornado destroyed much of the studio and Malaco's adjacent business offices.
"After the tornado, everybody was debating about what we were going to do—'Are we going to rebuild the studio?' This, that and the other," Bruce says. "We all decided that if we did this, rebuilt the studio, then we were going to open up and be commercial. That's just what we needed to do."
Malaco reopened in the summer of 2012, and ever since, Bruce has brought countless Jackson artists into the studio, either for tracking or just to hang out and see the process. The studio, which currently houses more than $500,000 in recording equipment, is outfitted to serve everything from a solo acoustic act to a gospel choir.
Although the space is best suited for a large-scale, full-band project, Bruce says those days are largely over. Recording budgets are smaller than they once were, due in apart to the decline of album sales but also the rise of workstations—digital interfaces for recording and editing audio that are more affordable than physical mixing consoles.
There are benefits to that technology, with some tasks that once took Bruce a day of work now taking 15 minutes. But it's kind of like Photoshop, he says. In the right hands, it can facilitate amazing art. In the wrong hands, it's just a bunch of funny pictures on the Internet.
"When I came up, there was no GarageBand, there was no Pro Tools, Cubase, Sonar or any of the digital audio stuff," he says. "You had to go to a studio and sort of camp out. I mean, that's what you did. You'd go in for a week or three weeks and make a record. ... But at the end of the day, it's all good. It gives somebody who never would have the opportunity (a way) to do something that may be great."
With the shifts in the music industry, Bruce says, the only solution for studios like Malaco is to adapt and to plan ahead, and thankfully, he feels like he's gotten good at both of those things. He regularly rents studio time to other producers in the area and accepts mixing and mastering projects for all forms of audio, while keeping an eye on the horizon.
At the same time, he knows that things could always improve. For him, that starts with a Jackson musician who can be a successful artist without running to a bigger city to make that happen. Other musicians pay attention to that, he says. They scan through the liner notes on their favorite records and travel to the city responsible for that sound.
"When that happens, then I think the whole community—Terminal (Recording Studios in Ridgeland), TRS in Pearl, Casey, myself—we'll all benefit," Bruce says. "When the music scene starts really gelling and something's happening and everybody doesn't think they need to flee to Austin to do whatever, that, to me, would make everything great."
Comment at jfp.ms.
Formulating a Plan
by Micah Smith
In May of this year, Andrew Graeme, audio-media writer and owner of The Byre Recording Studio in Scotland, created a formula that gives an estimate of how much a music-only commercial studio can make from local recording artists in a smaller city like Jackson: (Population/1000) x (GDP per capita/1000) x 2=Annual profit.
Here's what that looks like when applied to Jackson:
(171.155/1000) x (28.211/1000) x 2=$9,656.91
If that number looks low, that's because it is. By the formula, Jackson isn't capable of supporting a single commercial studio that focuses solely on music recorded in-house. Thankfully, most local studio owners have already solved this problem, taking on additional projects for support income, including mixing or mastering work from other companies, engineering TV and film audio and renting studio time to other producers and engineers.
*Numbers based on 2013 reports from the U.S. Department of Commerce Bureau of Economic Analysis.
Quick Studio Wisdom
by Micah Smith
For any musical artist planning on making his or her own album in the future, know that the process starts long before you step foot in a studio. Here are a few tips on how to prepare.
• Know your music. The most expensive phrase a musician can say is, "I'll write my parts in the studio." While a few Jackson studios charge per song, it's much more common to pay by the hour. Being prepared shows you value the producer's time and your own.
• Have too much material. If you're recording a 10-song project, don't walk in with 10 songs. It's a standard record-label practice to require anywhere between 25 to 50 songs or partial songs because, unfortunately, not every track that works great live will sound good on tape.
• Kill your darlings. The William Faulkner-attributed quote about writing goes double for songwriting. Any recording decisions, from lyrics to production choices, should serve the greater good of the song. Be willing to step back from your work and be critical.
• Ask the hard questions. Chief among these should be, "Am I ready to record?" Consider whether your budget and goals match up, whether the studio or producer is the right fit, and whether you'll follow through with the promotion needed to make your release successful.