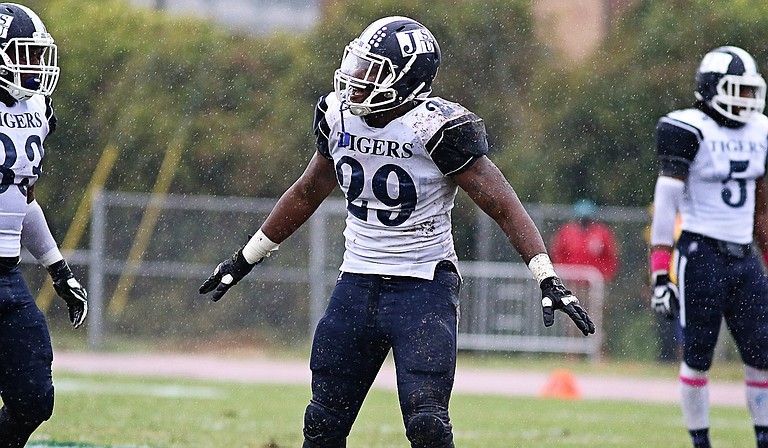 Thursday, November 19, 2015
As the college football season enters its final two weeks, four-year colleges and universities across the state have started to nominate one of their players to receive the 2015 C Spire Conerly Trophy. This year marks the 20th year of the award, which is essentially Mississippi's version of the Heisman Trophy. Jackson State University has nominated stud defensive end Javancy Jones.
He will try to become the first player from Jackson State to win the award. He was a two-star recruit out of Noxubee County High School, where, as a senior, he notched 78 total tackles, 6.5 sacks, two interceptions and three forced fumbles.
The defensive end played in the 2012 North v. South All-Star match (a Mississippi all-star football game for the best players not selected for the Mississippi-Alabama All-Star game), as well as first-team All-State, All-Area and All-District. Noxubee County High School finished with a perfect 16-0 record and a 16-6 victory over Green County High School in the 4A Mississippi High School Championship Game in 2012.
As a freshman at JSU in 2013, Jones made an instant impact on the field. He earned the titles of SWAC Freshman of the Year and All-SWAC First-Team, nationally syndicated sports radio show From the Press Box to Press Row selected him for All-American, and College Sports Journal chose him as All-Freshman.
Jones filled up the stat sheet during his freshman season, in which he finished No. 4 on the team in tackles with 54 total, 26 solo tackles, 14 tackles for a loss (No. 2 on the team), five sacks (No. 2 on team), two pass breakups, two quarterback hurries, one forced fumble and one blocked kick.
The Tigers moved Jones from defensive end to linebacker his sophomore season, and he was a preseason All-SWAC selection. Jones played most of the 2014 season with broken hands but still led the team in tackles with 108 total, 46 solo tackles, 18 tackles for a loss, three sacks, a pass deflection and one forced fumble. He ranked No. 22 in FCS in tackles for a loss and No. 37 in FCS in total tackles.
Jackson State moved Jones back to defensive end at the beginning of the 2015-2016 season. He currently leads the Tigers in tackles with 68 total and 13 tackles for a loss, and is second on the team in sacks.
He is currently tied this year for first place in tackles for a loss at 2.1 per game. Among active career leaders, he is No. 2 in FCS in assisted tackles for a loss and ranked No. 9 in FCS in tackles for a loss.
Joining Jones so far as C Spire Conerly Trophy nominees are quarterback Dak Prescott of Mississippi State University; quarterback Nick Mullens of the University of Southern Mississippi; wide receiver Marcel Newson of Mississippi College; cornerback Isaiah Swopes of Belhaven University. Alcorn State University, Mississippi Valley State University, Delta State University, Millsaps College and the University of Mississippi have yet to name a nominee but have until Nov. 23 to do so.
This year's award ceremony will be Dec. 1 at the Mississippi Sports Hall of Fame and Museum (1152 Lakeland Drive) with a reception at 5:30 p.m. and a banquet at 6:30 p.m. Tickets are $100. For more information, call 601-982-8264 or download an order form on the sports museum website.