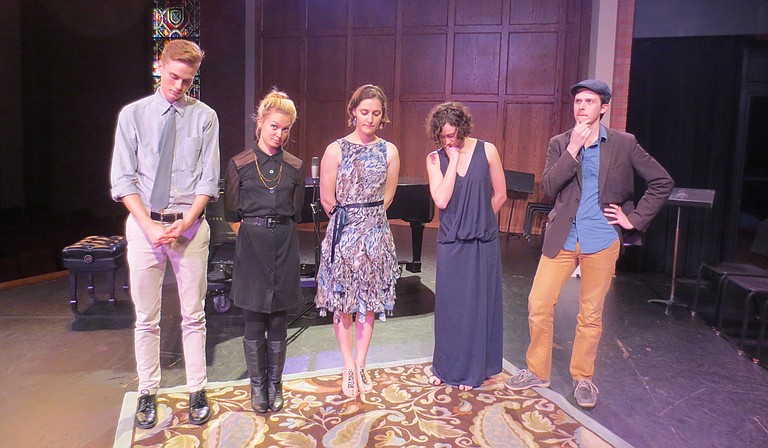 Wednesday, November 4, 2015
For many people, composers like Bach, Beethoven, Mozart and Chopin have become so synonymous with classical music that they don't even require a first name. But while these legendary figures are all long gone, Andrew Sauerwein, the associate professor of music at Belhaven University, is grooming the next generation of composers not to take those icons' places, but to find their own.
Sauerwein says people often think of classical music as something in history, not realizing that there are thousands of working composers today. That misinformation also brings unreasonable comparisons between modern composers and history's most celebrated names. Sauerwein argues that, no, the students aren't yet at that level, but why should they be?
"It's not really fair to compare these students to the great composers of the past—the one or two people in a given generation out of hundreds or more that we remember for being the cream of the crop," he says. "Here, our students are learning the craft. They have interesting things to say, and it's often intriguing to see what they come up with, but some of them are still youthful in their specialties."
When students learn to drop the pretense of becoming the next musical luminary, he says, that's the moment where things really get exciting.
A native of Portland, Ore., Sauerwein received a bachelor's degree in composition from the University of Oregon in 1992 and earned a master's degree in composition from the university in 1995. He graduated with a doctorate in composition from Duke University in 2001 and taught there part-time before taking a teaching position at the Northwestern College of Iowa in 2003. He moved to Jackson to teach music theory and help launch Belhaven's composition program in 2005.
One of Sauerwein's first additions to the curriculum was the Composers' Forum, a community designed to challenge and encourage collaboration between Belhaven's composers and performers with semester-long projects, such as the current percussion-ensemble pieces, and presentations of works-in-progress. These elements culminate in the now-annual Student Composers Concert series, which will see its 15th iteration on Tuesday, Nov. 10. Sauerwein says the event is meant to foster experimentation, so listeners who come expecting easy entertainment might be a little disappointed.
"The music often invites you to think about it and consider things," he says. "It's an adventure. Part of it is that there's always something new, so if you come with that kind of explorer's mindset—'Here's a bunch of new territory to discover and new ideas to think about'—it opens doors to new ways of hearing music and perhaps new kinds of music."
The concert features pieces from four composers: seniors Trailand Eltzroth, Wil Murphy and Rachael McCartney and sophomore Tripp Stewart. Eltzroth is a guitarist-turned-composer who enjoys playing with different musical patterns to create rich, textured compositions. Murphy takes a somewhat satirical look at classical styles, inserting funny or absurd changes to create a playful atmosphere. The more reserved personality of pianist McCartney contrasts with her complex and energetic arrangements. Stewart is a relative newcomer to composition and often adapts elements of popular and alternative-rock music into his pieces, though Sauerwein says the guitarist could go anywhere this early in his development "I think one thing that's become evident is that when one gives individuals the right kind of support and guidance, their own particular ideas come to the fore," he says. "Every student composer has something new and different and interesting to express, and no two of them are really alike."
Belhaven Student Composer Concert XV is at 7:30 p.m., Tuesday, Nov. 10, at the Belhaven University Center for the Arts (835 Riverside Drive, 601-968-5930). The event is free. For more information, visit belhaven.edu.