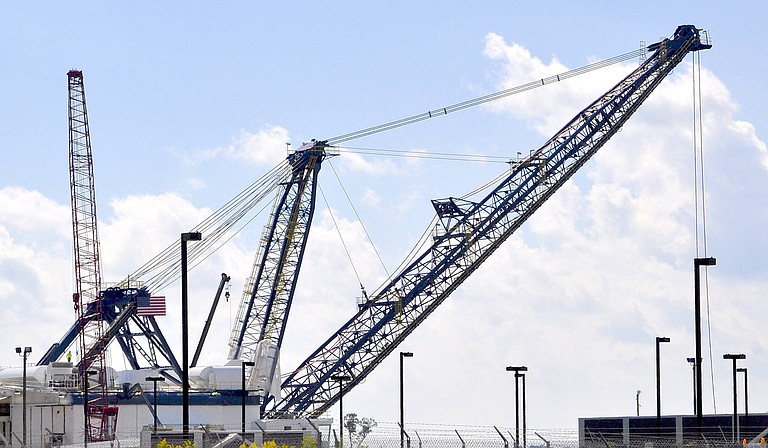 Regulators are ordering Mississippi Power Co. to lower its rates later this month and plan for refunds by November for customers who want them.
The Mississippi Public Service Commission voted 3-0 Tuesday to comply with a Mississippi Supreme Court order that found the 2013 rate increase for the $6.2 billion plant illegal.
The unit of Atlanta-based Southern Co. must roll back the 18-percent increase starting with the August billing cycle.
Commissioners say they'll vote on a refund plan in August. Customers can choose a one-time refund check or credits against future bills over a longer period. Mississippi Power may have to borrow to pay refunds.
Any rate decrease could be short-lived. Mississippi Power sought to increase rates after the court ruling and could enact increases as early as Sept. 12.
The Mississippi Supreme Court ruled in February that an 18-percent rate increase was illegal because regulators didn't conduct hearings to ensure Mississippi Power was spending prudently on the $6.2 billion Kemper plant. It also ruled that regulators used an illegal rate structure, didn't notify all ratepayers and broke public meetings law by negotiating a deal in private.
The Public Service Commission, Mississippi Power and some business groups asked the court to reconsider, but the court reaffirmed its ruling in June.
Now, commissioners must sort out how the refunds will be issued.
All three commissioners said Monday that they favor giving customers a choice between refund checks or credits on future bills. Typical residential customers could have hundreds of dollars at stake.
"I think the majority of consumers will want checks and should get checks if they want," Public Service Commission President Lynn Posey said.
Though Mississippi Power accounted for the money separately, the unit of Atlanta-based Southern Co. spent it on the $6.2 billion plant and could have to issue debt to pay the $350 million.
"I think they'll have to borrow the money to send it out," said Posey, a Republican from Union Church.
Mississippi Power is under financial pressure. What it calls Plant Ratcliffe is years behind schedule and billions over budget, and the company repaid a roughly $300 million deposit to South Mississippi Electric Power Association last month after it dropped plans to buy part of Kemper. Fitch Ratings then downgraded Mississippi Power's credit rating.
Northern District Commissioner Brandon Presley, a Nettleton Democrat, said he expected commissioners to act Tuesday to roll back the rate increase enacted in March 2013. He and other commissioners said they expected it would take several months to work out refund methods.
The company says it will use state law to enact the steepest increase on Sept. 12 if commissioners don't act by then. Residential customers who pay $144 a month now could see rates rise as high as $181 a month. Mississippi Power's 186,000 customers from Meridian to the Gulf Coast would pay $273 million more in the first year and $395 million in the second year under one scenario.
In a filing last month with the commission, Mississippi Power urged further consideration on how refunds should be issued.
"The issue is much larger than simply 'issuing checks,'" spokesman Jeff Shepard wrote in an email to the Associated Press on Monday.
The man who filed the lawsuit that forced the refund order, though, says Mississippi Power is stalling.
"Mississippi Power Company is singularly committed to avoid paying the refund ordered by the Supreme Court," a lawyer for Tommy Blanton, a Hattiesburg oilman who's running for the southern district commission seat as a Democrat, wrote in a June 29 filing.
For Blanton, the answers are simple: "The refund should be a check to customers. The money was unjustly taken from (them) and should be returned immediately."
Mississippi Power released the following statement on today's PSC hearing:
"Today the Mississippi Public Service Commission voted to require Mississippi Power to return customers' money collected since 2013 for Kemper-related rate increases and stop collection of the Kemper rate on customers' bills beginning in the August billing cycle. The Commission took the action in accordance with a ruling in February by the Mississippi Supreme Court.
"Mississippi Power's focus is providing customer refunds in the most secure and immediate way possible and meeting the Commission's requirement related to the Kemper rate.
"While the PSC has determined the refund should either be issuing a check or a bill credit, Mississippi Power believes the safest and quickest method is by providing bill credits. This is safer than mailing checks to customers. If checks are issued it could take months for those to be verified, processed and mailed to customers.
"As required by the Commission, over the next 14 days the company will provide a full proposal on how both a bill credit and check process will work. Mississippi Power also will take the appropriate to ensure the Kemper rate collection is stopped beginning with August customer bills.
"There will be many administrative details to sort regardless of the refund method and it requires thoughtful consideration, which we believe the PSC will give to the matter.
"Mississippi Power is committed to working closely with the PSC to comply with its requirements and do what's in the best interest of all our customers."
Tara Yoga and Lucky Town Host Poses + Pints
Tara Blumenthal, owner of Tara Yoga (200 Park Circle Drive Suite 4, Flowood), and Chip Jones, owner of Lucky Town Brewery (1710 N. Mill St.), are hosting a collaborative event called Poses + Pints July 18. This is the second such event the two local business owners have organized.
Blumenthal, who says she has known Jones since Lucky Town was still just an idea, said the event is both a show of support among local businesses and a way to get the word out about buying local.
"We want to bring awareness to the variety of local businesses we have in the area and create a sense of connectivity within the community," Blumenthal said. "Lucky Town does quality craft beer, (and) we do quality yoga here at my studio, so it seemed right to help promote each other."
The event begins at 10 a.m., with Blumenthal hosting a yoga class at the brewery. The class will be a level-one beginner's course open to people of all skill levels, though particulars of the class will vary based on the overall experience level of participants. Blumenthal will provide mats, but participants can bring their own if they have one. After the class, Jones will host a tour of the brewery starting at 11 a.m., and a craft beer tasting will follow. Lucky Town will premiere a new brew called Lucky Town Goes Gamblin', the first commercially brewed gose brew in Mississippi. Also on tap will be Hop Fiasco, Ballistic Blonde and Pub Ale.
Admission to Poses + Pints is $20. Participants can pay on arrival or sign up and pay in advance through the Tara Yoga website or Facebook page. For more information, call Tara Yoga at 601-720-2337 or Lucky Town Brewery at 601-790-0142.