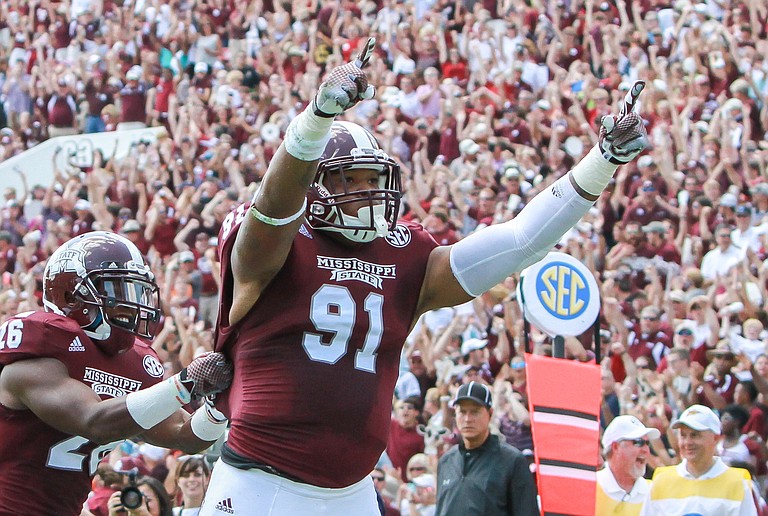 Thursday, January 22, 2015
Several players were key to Mississippi State's success on the gridiron this season. Most of the headlines praised quarterback Dak Prescott and linebacker Benardrick McKinney, and rightfully so.
But defensive lineman Preston Smith, who might have made the biggest leap this season, was a major reason the Bulldogs rose to the top ranking in the nation. Smith went from a good player with late-round draft potential to a rising star this season and a potential first-round draft choice in the future.
Smith arrived at MSU from Stephenson High School out of Stone Mountain, Ga., in 2011. He played his freshman and sophomore seasons recording just 42 tackles, two forced fumbles and one fumble recovery.
Flashes of NFL potential began to show when Smith became a starter his junior season with the Bulldogs. That year, he recorded 44 total tackles with 29 solo tackles, including a forced fumble. He was also named the Most Outstanding Defensive Player in the Liberty Bowl with six tackles.
In his senior year, Smith had a breakout campaign that earned the attention of NFL scouts. Early in the season, he was a nearly unstoppable force on the field, and teams had to adjust their blocking to try to contain him the rest of the season.
In his final season in Starkville, Smith led the team with 15 tackles for a loss, nine sacks and 15 quarterback hurries. He also forced two fumbles and had two interceptions.
Smith ranked second in the SEC and eighth nationally in blocked kicks with two. He had at least one tackle for a loss in 12 of 13 games during his senior season.
Smith is the only player in SEC history to be named Defensive Lineman of the Week for three consecutive weeks (Sept. 1, Sept. 8 and Sept. 15), and the first player to be named to three straight Conference Player of the Week awards since Johnny Manziel.
He was also named Senior Bowl National Defensive Player of the Week on Sept. 20, 2014. The coaches selected him for First Team All-SEC, and the Associated Press selected him for Second Team All-SEC.
Smith finished his career at MSU with 134 tackles, 27 tackles for a loss, 16 sacks. He also forced five fumbles, with at least one fumble each season.
The Senior Bowl is the first of two opportunities for Smith to confirm for scouts that he'll be able to match those heights in the NFL. He will get a second chance at the NFL Combine later this year.
During Senior Bowl practices and the game, scouts will want to see if Smith can get to the quarterback and stop the running game. His ability to move inside like he did at Mississippi State will also make him more valuable to NFL teams.
Other Mississippi players, such as center Dillon Day (MSU), defensive tackle Kaleb Eulls (MSU), offensive lineman Blaine Clausell (MSU), safety Cody Prewitt (Ole Miss) and cornerback Senquez Golson (Ole Miss), join Smith in the Senior Bowl Saturday, Jan. 24. The NFL Network's coverage begins at 3 p.m.
More like this story