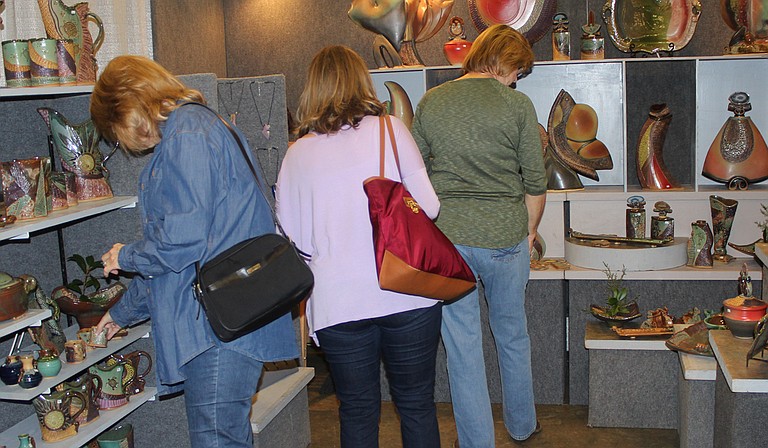 Wednesday, December 2, 2015
Since 1976, the Craftsmen's Guild of Mississippi has kept many Jacksonians out of the outlet stores and away from the clearance racks while also supporting local arts with the Chimneyville Crafts Festival.
"The whole notion of a crafts show was very, very new in those days, so the Craftsmen's Guild kind of helped pioneer what a crafts festival was," says the guild's executive director, Nancy Perkins. "It developed from a small show with not that many exhibitors to have 150 to 180 booths. This is some of the finest collection of handcrafted items you're going to see in the region."
Over time, the festival also became the largest fundraiser for both guild members and the guild itself, which promotes the arts and educates the public about crafts. To that end, this year, Chimneyville will also include a preview party on Thursday, Dec. 3, from 7 p.m. to 10 p.m., where festival-goers can enjoy food from Mangia Bene Catering, wine, beer and specialty cocktails, music from the Raphael Semmes Jazz Ensemble and early access to the festival's massive selection of art.
"We all work together—the board, the craftsmen, the volunteers and the staff—to put this on every year and to have it be something that everybody who comes takes away a feeling of pride, seeing what talent is here and also having the opportunity to purchase gifts that stand the test of time," Perkins says.
The Chimneyville Craft Festival is Friday, Dec. 4, from 9 a.m. to 6 p.m., and Saturday, Dec. 5, from 10 a.m. to 5 p.m., at Mississippi Trade Mart (1200 Mississippi St.). Admission for the preview party is $60 at the door or $50 in advance, and includes admission to both festival days. General festival admission is $10 and $8 if bought at the gallery in advance. For more information, call 601-856-7546 or visit craftsmensguildofms.org.