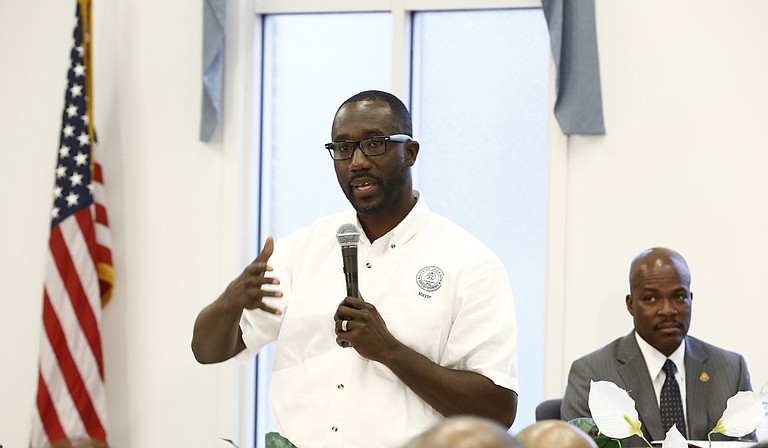 When Mayor Tony Yarber submits the second draft of his budget proposal to the Jackson City Council next week, the plan will not include an 8-percent tax increase, he announced at a town hall meeting at Progressive Baptist Church Thursday evening.
The news drew polite applause in the brightly lit sanctuary full of Jackson residents who have seen their water and sewer bills rise in recent years and are now paying 1 percent more sales tax on certain items. In the back of the room, Ward 6 Councilman Tyrone Hendrix wore a look of satisfaction; a week earlier, at his own town-hall forum, he and fellow Councilman Melvin Priester Jr. said the council would not approve a budget that contained a tax increase.
Yarber's budget was for about $509 million—$494 million in anticipated revenues and a deficit of $15 million. To close that hole, Yarber proposed the tax increase along with furloughing most full-time workers one day each month.
"We have not taken furloughs off the table," Yarber told reporters after the event.
Yarber also said his revised budget would include a $1 million appropriation to the Jackson Zoo, a reduction from the $1.2 million he originally proposed. The city council's counter proposal was to budget $600,000 for the zoo to help balance the budget with the understanding that another $600,000 payment could come later, but zoo officials worried that could jeopardize the park's accreditation, which requires periodic reporting.
Between 2013 and 2014, the zoo fought against losing its accreditation from the Association of Zoos and Aquariums due to concerns about the zoo's fiscal situation. The zoo retained its AZA accreditation in March 2014 partly because of financial backing from the city.
Yarber also said the city hopes to make changes to garbage collection. Currently, city residents have garbage pickup twice a week and recycling pickup twice a month. Under a new proposal, Yarber said residents would have one day every week for recycling pickup and another day for other refuse.
For individuals who do not have recycling pickup services, the city has a drop-off point at Battlefield Park. Yarber said the city is still a long way away from having a permanent long-term recycling center, but city officials have toured such facilities, and he is open to hearing from firms willing to offer Jackson those services.