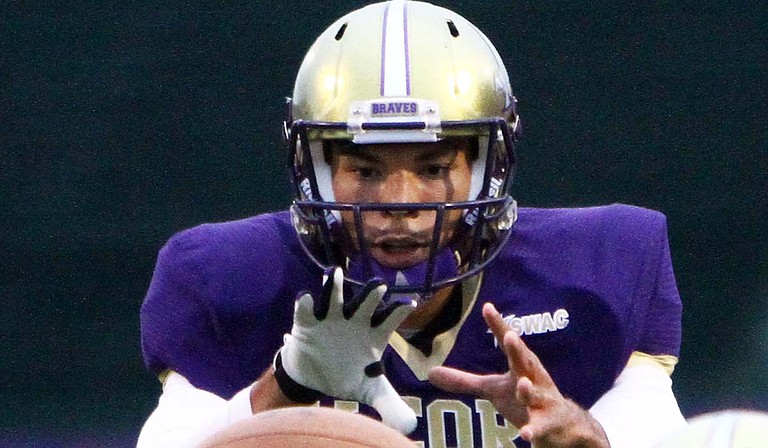 Wednesday, August 19, 2015
Alcorn State University Braves
Head coach: Jay Hopson (23-13 overall and all at Alcorn State entering fourth season)
2014-15 record: 10-3 (7-2 SWAC) season ended with a 38-24 win over Southern University in the SWAC Championship Game
Stadium: Jack Spinks Stadium
Last Season Recap
Last season, Alcorn State did something it hadn't done since Steve McNair graced the cover of Sports Illustrated: It won a SWAC football championship. The Braves continued their flight up the SWAC standings under head coach Jay Hopson.
In just three seasons, Hopson had Alcorn State go from the outhouse to the penthouse. There was little resistance to ASU's march to the title last season.
The Braves blew out most of their opponents with a margin of victory of 33.4 points per win. Even in Alcorn State's three losses, the Braves only lost by an average of 5.3 points. ASU could have won all three games they lost against the Southern Miss, Grambling State University and Jackson State.
SWAC Co-Offensive Player of Year John Gibbs Jr. and FCS All-American tight end Jordan Payne led ASU on offense, and the Braves led the SWAC in scoring offense and scoring defense last season.
2015 Outlook
Alcorn State's offense should be just as explosive this season as last with the return of Gibbs and Payne. The Braves also return eight receivers who caught at least 14 passes, including sophomore Charles Hughes and junior Jaborian McKenzie, and Tollette George comes back from injury this season. ASU's running game will be by committee with senior Darryan Ragsdale and Arron Baker leading the way. Four of five offensive linemen return with Isaac Sampson leading the unit.
There are a few holes on the defensive side of the ball for the Braves, but there are some returning players who should be playmakers. Senior defensive end Darien Moody will anchor the line.
Senior Damon Watkins leads the pack this season, and like Moody, he earned a spot on the preseason First Team All-SWAC.
The secondary should be strong with seniors Quinton Cantue and Anthony Williams Jr. joining junior Warren Gatewood.
Prediction
Every game on the schedule is winnable for No. 20 Alcorn State except for the season opener at Georgia Tech. It took 20 years for Alcorn State win its most recent SWAC Championship. Repeating for the Braves might be hard since no team in the SWAC has repeated as champion since Grambling State won three straight titles from 2001 to 2003.
The toughest conference games are on the road at Southern and Jackson State. This season will be a success if Alcorn State is in the mix for another SWAC title, and another 10 wins are possible. This season will be a failure is this team wins less than seven games.
Mississippi Valley State University Delta Devils
Head coach: Rick Comegy (173-96-2 overall, 2-9 at MVSU entering second season)
2014-15 season: 2-9 (1-8 SWAC) season ended with a 44-13 loss to Southern University
Stadium: Rice-Totten Stadium
Last Season Recap
There was no quick turnaround from Head Coach Rick Comegy for Mississippi Valley State in his first season at the school. In fact, there was little to cheer about all season long for the Delta Devils. Mississippi Valley State started the season off with a 32-7 win over University of Faith, and things went downhill from that point. There was a five-game losing streak, and none of the games were close except for a 20-16 loss to Texas Southern. The Delta Devils shocked Jackson State for a 27-23 win for their second and last one of the season. MVSU ended the season on four-game losing streak.
Scoring was a major problem as the Delta Devils only scored 20 or more points five times. The team gave up 30 or more points seven times as the defense struggled as much as the offense.
2015 Outlook
Don't expect a major turnaround this season. Mississippi Valley State lost 19 seniors on last year's team. The Delta Devils also didn't have a spring practice because of Academic Progress Rate sanctions. This team will be better if senior quarterback Quantavius Patterson plays well in his full-time role as the starter after splitting time with Patrick Ivy. Senior offensive lineman and second team preseason All-SWAC Sean Brown will provide leadership up front for the offense.
It will be important for the offensive line to get better after giving up 44 sacks last season. Star wide receiver Julian Stafford is gone, so returning sophomore wide receivers Joshua Rice and Keenan Daniels have to pick up their production. Junior defensive end Khalil Young will be the leader on the defensive line. In the secondary, it will depend on seniors Charles Moore and Le'Trey Jones to be playmakers.
Prediction
This season will be a success if Mississippi Valley State can win two or more games with the schedule they have. Only a winless season would be a disaster, but it wouldn't be completely shocking.
Delta State University Statesmen
Head coach: Todd Cooley (16-5 overall and all at DSU, entering his third season)
2014-15 season: 9-2 (6-1 GSC) season ended with a 37-27 loss to the University of West Georgia in the Division II Playoffs
Stadium: Parker Field-McCool Stadium
Last Season Recap
Delta State had a great start to the season as it got off to a five-game winning streak. The Statesmen were only challenged once in their first five games, winning by 17 points over Valdosta State University. Then came a road trip to West Georgia for DSU.
That's when the Statesmen suffered their first defeat of the season: an eight-point loss to the Wolves. Delta State regrouped after the loss and finished the season on a four-game winning streak. A 9-1 regular season earned the Statesmen a seventh Gulf South Conference title and a bye into the second round of the Division II playoff. Last season's arch nemesis popped up once again for DSU when West Georgia got the better of the Statesmen for the second time.
2015 Outlook
Don't expect a drop-off from Delta State this season. DSU returns 17 starters and plenty of players who saw action last season. Returning junior quarterback Tyler Sullivan and senior wide receivers Justin Leavy and Casey Osborne will lead the offense. The return of senior running back Eddie McCadney will bolster DSU's ground game. Delta State had one of the best offenses in the GSC and in the nation last season. That offense will help with senior offensive tackle Mose Countryman this season.
On defense, the Statesmen return key players at each level. The secondary could be the strongest unit with senior Richard Nash, junior Romelo Wilson and sophomore Trey Shaw. All three were honored last season as first or second team All-GSC, and Shaw was the conference's Freshman Defensive Player of the Year.
Prediction
A second-straight playoff appearance shouldn't be out of the question. One reason is because the Statesmen play seven home games this season. It will be a success if Delta State wins eight games and returns to the Division II playoffs and make it past the second round. This season will be a disaster if DSU fails to make the playoffs, and the win total plummets.
Mississippi College Choctaws
Head coach: John Bland (76-36 overall, 1-9 at MC entering second season)
2014-15 season: 1-9 (0-7 GSC) season ended with a 27-3 loss to Delta State
Stadium: Robinson-Hale Stadium
Last Season Recap
Mississippi College struggled last season, which people expected as the Choctaws made their transition from Division III to Division II.
Last season showed the team's growing pains. The team started the season on a four-game losing streak that included an opening game loss to Belhaven with 14-32. It was October before Mississippi College won a game. MC was able to blowout University of Faith for the seasons' only win.
MC finished on a five-game losing streak that ended with a loss to renewed GSC rival Delta State. Transitions aren't always the smoothest, but the Choctaws fought hard each week.
2015 Outlook
Mississippi College returns 18 starters from last season's squad and added 16 players from the junior-college ranks. This should help the second-year transition to Division II. The team returns sophomore quarterback Kyle Smith and add senior quarterback Raymond Cotton. MC also returns four offensive linemen, who, with a year's experience, should help the offense be 
more productive.
If the offensive line improves, returning senior running backs Chris Ingram and James Banks should find more room to run. Mississippi College will have to find some wide receivers since none of the returning starters are receivers.
On defense, MC returns four starters in the secondary with juniors Reggie Bennett, Cliff Collins and Darryl Johnson, with sophomore Chris Manning joining them. Senior Lazarus Shelby will lead the defensive line, and senior Seth McDonald, junior Chris Ori and sophomore Kaleb Coleman head the linebacker corps.
Prediction
Don't look for Mississippi College to win a ton of games this season. The team plays in the very competitive Gulf South Conference, and last season, four teams from the GSC made the Division II playoffs. This season will be a success if Mississippi College wins more games than last season. Things will be a disaster for the MC if they fail to win a game in their second full season at Division II.
Millsaps College Majors
Head coach: Aaron Pelch (30-19 overall, all at Millsaps, entering sixth season)
2014-15 season: 3-6 (3-4 SAA) season ended with a 19-14 loss to Rhodes College
Stadium: Harper Davis Field
Last Season
Things didn't go as planned for Millsaps last season. The Majors brought back key pieces from a 9-1 season in 2013 but could only muster a 3-6 2014 season.
Millsaps had a mix of close losses and blowouts. None of the three wins came by more than eight points. The losing season was the first for the Majors since the 2011-12 season.
Strangely, two of the three wins came on the road. The lone home win came against the University of the South at Sewanee for the team's homecoming game.
2015 Outlook
Millsaps will break in a new quarterback but returns with junior wide receiver Rashad Simms.
Joining Simms will be Beau Wells, Zachary Borne and three other players who had at least 10 or more catches last season. The Majors also return their top three rushers, Raphael Johnson, Chandler Loy and Isaiah Talton, to carry the ground game this season. Millsaps gets Hunter Coleman and Austin Harris back on the offensive line.
Senior linebacker Eric Martin leads the defense this season. Junior defensive lineman Alex Foust could be poised for a breakout season, and senior Drew Ward will join him on the defensive front.
In the secondary, junior Benton Brown will be the returning leader. Senior Javis Aultman and junior Jared Bullock will join him.
Prediction
This year will be a success if the Majors bounce back to their winning ways, but it will be a failure of a season if Millsaps gives more ground in the win column. A winning record is possible this season.
Belhaven University Blazers
Head coach: Hal Mumme (137-128-1 overall, 2-9 at Belhaven entering second season)
2014-15 season: 2-9 (0-5 MSC) season ended with a 39-34 loss to Bethel University
Stadium: H.T. Newell Field
Last Season Recap
Things started off well last season for Belhaven. The Blazers won their first two games under new head coach Hal Mumme.
After that, the wheels fell off for him and the team. Belhaven went on to lose its final nine games. The low point had to come against Lindsey Wilson College in Kentucky.
The Blazers lost that game 91-14 to the Blue Raiders. Against University of Pikeville, the Blazers lost by just 10 points, and against Bethel University in Tennessee, the team lost by just five. Those two games would mark the first time the Belhaven scored more than 30 points since the first two games of the season.
2015 Outlook
Last season was the final one for Belhaven at the NAIA level. It was also a younger team with a good bit of sophomores and freshmen. This season, it looks like sophomore Clayton Webb will be taking over at quarterback. He will have junior wide receivers Darien Thomas and Devin Odom to target.
On defense, junior Syndrick Malone is the only player to notch an interception that returns in the secondary. Leading tackler Alvin Vaughn also returns.
Defensive back Steven Joiner led the team in sacks last season and is back as a senior. Junior linebacker Alonzo Peavy finished with half a sack less than Joiner last season. Senior Justin Munoz will join him.
Prediction
Belhaven enters the Division III ranks and is transitioning to become a member of the NCAA. That means the Blazers leave behind Mid-South Conference and are now members of the American Southwest Conference.
This season will be a success for the Blazers if the team can manage to be competitive at the Division III level and be a legitimate threat against ASC foes. A disaster of an season would be going winless and moving to Division III.
Hinds Community College Eagles
Head Coach: Gene Murphy (164-65-5 overall, 138-45-5 at Hinds entering 29th season)
2014-15 season: 5-4 (3-3 conference) season ended with a 31-30 win over Southwest
Stadium: Joe Renfroe Stadium
Last Season Recap
Hinds Community College started off last season with a seven-point loss to Holmes. The Eagles won two straight games after the loss before Mississippi Gulf Coast Community College beat the team. The Eagles won two more games before losing two of them. The season ended with a one-point homecoming win over Southwest Community College.
2015 Outlook
The Eagles will try to get back to the top of the junior and community college world.
Hinds will have to be better on defense after giving up at least 28 points in each of its four losses and five games overall. On offense, the Eagles scored 21 or more points in every game. They scored over 30 points five times last season.
Prediction
The Eagles are almost always competitive in the tough Mississippi Association of Community and Junior Colleges. Expect Hinds to once again to field a team capable of winning most of the games on its schedule.
Holmes Community College Bulldogs
Head coach: Jeff Koonz (14-22 overall, all at Holmes entering fifth season)
2014-15 season: 4-5 (3-3 conference) season ended with a 37-20 win over Northeast Mississippi Community College
Stadium: Ras Branch Stadium
Last Season Recap
The season started with a win over Hinds. A winning streak didn't follow as the Bulldogs lost three straight games. Holmes broke the losing streak with a win over Mississippi Delta Community College.
The Bulldogs couldn't string together wins as they lost their next two games. Last season ended on a high note with two straight wins, including a homecoming win over Coahoma Community College.
2015 Outlook
Except for a 49-0 loss to East Mississippi Community College, the Bulldogs played some close games in their losses.
Holmes struggled on offense for most of the season as the team failed to score more than 21 points in its five losses. It wasn't until a 64-6 win over Coahoma and a 37-20 win over Northeast Mississippi that the Bulldogs scored more than 30 points.
Prediction
Holmes might be ready for a breakout season. The Bulldogs have five home games and only once do they play back-to-back road games. Just like with Hinds, it is always tough to win in the junior college ranks in Mississippi. The Bulldogs hope to challenge the top teams this season.