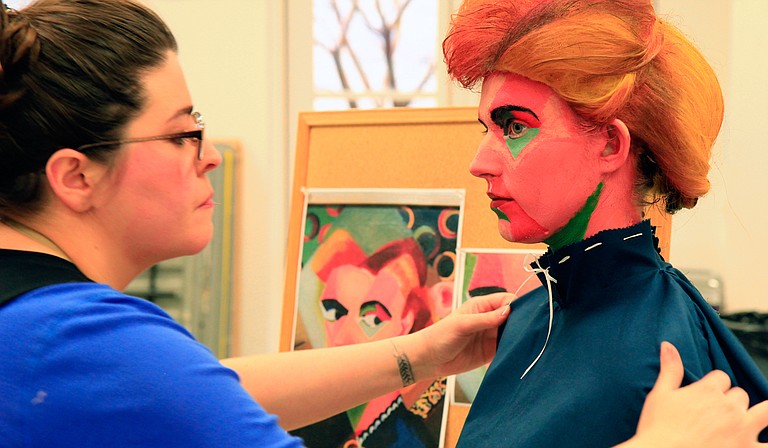 On April 10, attendees at the Mississippi Museum of Art's 2015 spring benefit may experience a sense of deja vu as they take in the sights and sounds. A gentleman in full firefighter uniform, with helmet in hand, may remind them of Jason Bouldin's "Portrait of Captain Jimmy Allgood, Lafayette County Fire Department" (2002), a work that hangs near the gallery entrance. A lady dressed in pink across the room may look like the living incarnation of the woman in "The Pink Lady" a 1967 Marie Hull painting, also on display in the museum's collection.
When they see the state's Tourism Division Director Malcolm White appearing to nap, they may wonder, "Didn't I just pass by a Richard Kelso painting of Mr. White napping—in that same chair?"
If it sounds like a scene from "Night at the Museum," with works of art springing to life, it's not by chance. Julian Rankin, the museum's marketing director, says that the movie trilogy's premise inspired the upcoming event, in part.
"In those movies, there (are) history and natural-science museums, so we just took that and spun it toward art," he says. "We don't have dinosaur bones in here, but we've got a lot of cool people—like William Faulkner—who are in 'The Mississippi Story,' our permanent exhibition, and so we decided ... (to) bring them to life and have some fun with that."
While most of the roughly one dozen "living" works will be based on art from the museum's permanent collection, during the seated dinner in the Trustmark Grand Hall, re-enactors will animate images from a temporary exhibition, "Civil War Drawings from The Becker Collection," on view at the museum through April 19.
"We're going to bring some Civil War soldiers out, (bring them) to life (and) have them battling while people are eating dinner," Rankin says.
The event will also feature abstract works and sculptures. One such work, "Hexflector," is a 1989 James Seawright sculpture consisting of 61 mirrored hexagonal panels. Despite the seemingly daunting task of bringing such a piece to life, volunteers appear to be up to the challenge.
"People will have to come see how we manage to do that," Rankin says.
In addition to attendees mingling with living versions of art works, attendees will also hear live music from performers including Raphael Semmes & Friends with Jewell Bass performing outside on the CSpire stage. Local artist Ginger Williams-Cook will give an art demonstration, and dancers from Belhaven University will perform a routine. Guests will also have the opportunity to participate in a silent auction to win art experiences, such as private art lessons from local artists.
Rankin says that benefits such as this one are an important means of fundraising for the museum. The proceeds support the work of the museum, including exhibitions, art classes, and social and community outreach events. He hopes that the focus of the spring benefit will help convey what brings the art to life: each work's unique story.
"Even though a lot of them are two-dimensional, they really are objects that have all the history of the artists who made them," Rankin says. "(They have) a lot of stories to tell, so this is an opportunity for us to sort of play with that idea and really bring them to life—and celebrate the fact that Mississippi art does have a life of its own."
"Night at the Museum: Artworks Come Alive" is from 7 to 11 p.m., Friday, April 10, at the Mississippi Museum of Art (380 S. Lamar St.). Tickets are $175 per person ($550 per couple at the patron level) and are available from the museum website (msmuseumart.org). Reserve tickets by calling the museum at 601-960-1515.