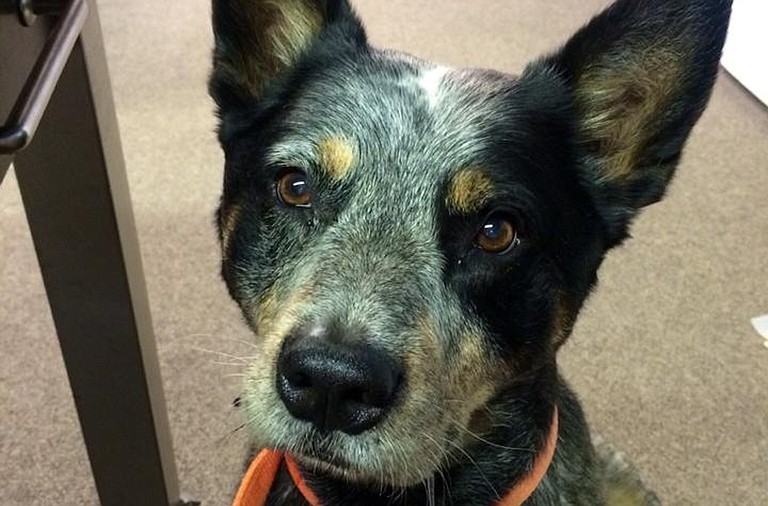 Friday, September 26, 2014
It's a proven fact that people love dogs. From Old Yeller to Marmaduke, we've long exaggerated the relationship between man and man's best friend. For Ron Chane, owner of Swell-O-Phonic, and his dog Zero, there's no need for hyperbole. They're just that attached to one another.
Zero, Chane's blue heeler best bud, has been a Jackson icon practically since birth. Chane received Zero as a gift from a friend when the dog was only four weeks old. On a regular day, Zero relaxes in his owner's clothing store in Fondren.
"Everybody knows him. He grew up in the store," Chane says. "He's such a figure of importance that my girlfriend knew this dog for two years before she met me. I really had to work to convince her that I worked at that shop and that was my dog."
Now, after nine years with Chane, Zero has become the de-facto face of Swell-O-Phonic, but the two weren't always inseparable. Chane lives in New York City part time, which isn't ideal for having a pet. Thankfully, friends were happy to help take care of the personality-filled pup.
"Early on, I was willing to take him to the dog pound or anywhere, because I was not ready for a dog, and he did not let me sleep at night," Chane says. "But we've become good buddies and bonded, and I can't imagine being without him."
Chane says life in the shop has turned Zero into a master attention stealer. Whether he's thieving plastic water bottles or putting his 50-percent success rate at getting food scraps from people to use, Zero is one of Fondren's most famous residents.
"He's a cool, good cat. I never had to train him. He was just very smart," Chane says. "He's always with me. He's like a little celebrity. We'll walk down the street, and people will be like, 'Hey, Zero!' He'll just cut his eyes like, 'Whatever.'"
Only recently, Chane thought to bank on his locally renowned canine, when employees suggested using Zero as a sort of store mascot on social media.
"He's more marketable than our products, we've come to find out," Chane says. "I could be laying on the sidewalk on fire with my guts hanging out and only get six hits, but if it's like, 'Hey, here's an update on Zero,' it'll have 100."
Unfortunately, Zero has recently been the center of attention due to health scares. He had extensive surgery in two locations on his spine, and not long after that, a cottonmouth snake bit him. Zero is currently receiving care at Mississippi State University, where he's in a physical therapy program to teach him to walk again.
"He's been in and out of hospitals, and he's not happy about it. But if everything keeps going well, I should have him back a week from Saturday," Chane says. "The first thing going through my mind is: What's it take to get him 100 percent again, right by my side and running with me? It's been expensive, but if it helps, I'd rather spend it on him. If I had to sell my business, my soul or my vehicle, I'd do it. He's my best friend."