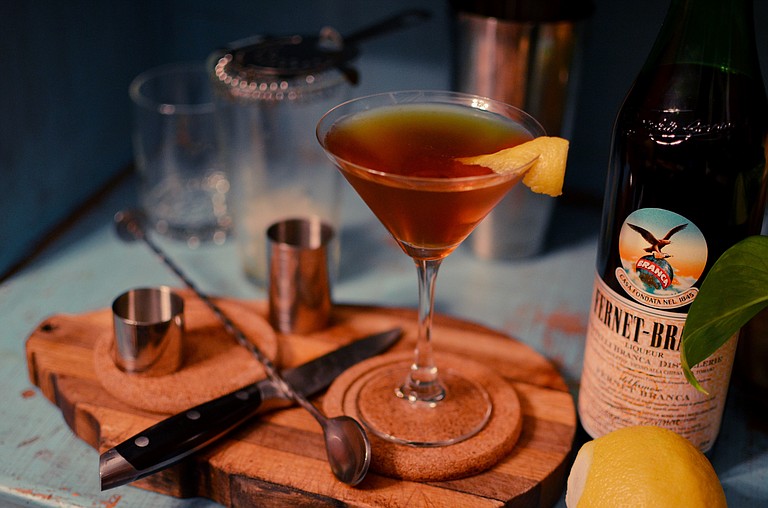 Wednesday, September 17, 2014
Prohibition cocktails. Craft cocktails. Drinks with literary names.
Face it: Long gone are the days when having a drink meant a gin-and-tonic or a scotch-and-water.
But face it: Today's fancy cocktails can be pricey at a swanky watering hole, or complicated to make at home.
Chris Robertson, Bravo Italian Restaurant and Bar's bar manager, can help you with that. In the fifth installment of his Bar Series classes, titled Home Bar 101, the seasoned bartender hopes to eliminate some of the guesswork—and all of the fear—from drink mixing.
"The whole idea is to remove the mysteriousness from the bar," he says. "People toss around terms like 'mixologist' or 'cocktailist.' I heard someone say 'cocktailian' today.'"
An artist with a bachelor's degree in oil painting from Millsaps College and a master's in marketing from the University of Mississippi, Robertson, 36, puts vision in his cocktails, as well.
"There's an artistry to it—an air of creativity," he says. "I even believe there's an aesthetic quality to it."
Robertson has mixed liquors from here to London, but Home Bar 101 is his way of showing participants that they don't have to leave the house for classic cocktails such as Manhattans, cosmopolitans and margaritas.
"There's no reason that when you get home from work you couldn't make something with the same strength and flavor we have here. It's not a science," Robertson says, before backtracking with a laugh. "Well, there's a little science. But there's definitely no magic!"
Bar 101 continues with "Home Bar 101" at 3 p.m. at Bravo Italian Restaurant and Bar (4500 Interstate 55 Frontage Road #244; 601-982-8111), Saturday, Sept. 20. Limited seating; $30 per person. Call to reserve a spot. For more information, visit bravobuzz.com.