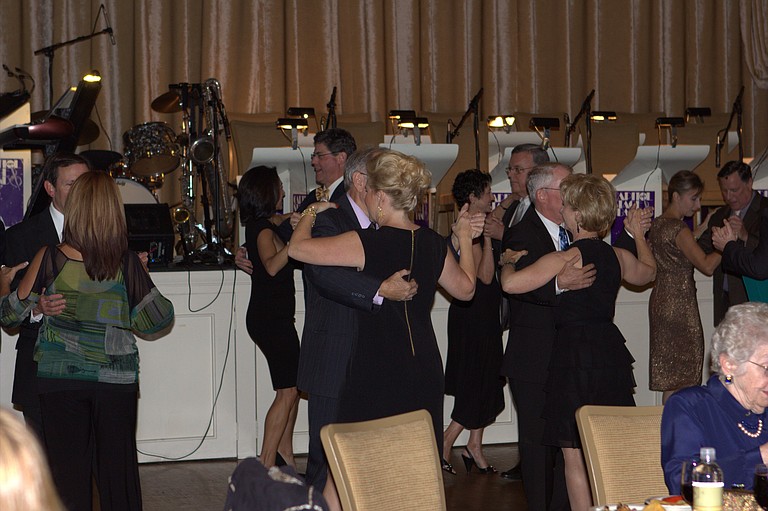 Tuesday, October 21, 2014
While you may hear people say, "Do it with attitude" or "Adjust your attitude," did you also know that attitude is a type of ballet move? It's where the dancers stand on their supporting leg while the other is raised and turned out, either behind, in front or to the side, and also may have their foot flat on the ground, the heel raised or may do the move on the tip of their toes.
The Friends of the USA International Ballet Competition named one of their annual events Moonlight Attitude partially because of this ballet terminology.
"It's a play on words," said Mona Nicholas, a former member of Friends of the USA IBC who was recently named the executive director of the competition. "Under the moonlight, you're dancing with an attitude, but it's also a ballet position."
The Friends organization has been around since the beginning of the competition in 1979, though it was dormant in recent years. Nicholas and a few other patrons of the competition decided to revive the organization last year, and part of that included the first annual Moonlight Attitude. At the beginning of the evening, partygoers were given a ballroom dance lesson free of charge, and then the party began.
This year, Jim Frechette of Applause Dance Factory (242 Stephens St., Ridgeland, 601-856-6168) will lead the dance lesson from 6 p.m. to 7 p.m. Moonlight Attitude will begin at 7 p.m. with a performance from Jackson's Capitol City Stage Band. This year's event will feature a raffle that includes pieces by Lynn Green Root and Lauren Stennis. Raffle tickets are $20. Moonlight Attitude will also have hors d'oeuvres and drinks.
"It's a great way to support (the USA IBC)," Nicholas said. "The (USA) IBC is important to Jackson and to the state of Mississippi because we bring so many international guests here for the whole two weeks." Nicholas says more than 30,000 people attended the 2014 competition, and most of them stayed in our hotels and spent money at our restaurants.
Moonlight Attitude will be at the Old Capitol Inn tonight, Oct. 21, beginning at 6 p.m. Tickets are $75, and the dance lesson, party, food and drink are included in that price. To purchase tickets, visit http://www.usaibc.com/friends visit the Friends of the USA IBC webpage.
More like this story