Wednesday, March 12, 2014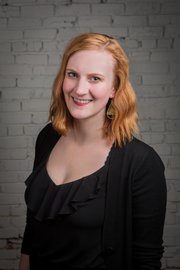 While I studied abroad in Ireland, I loved coming across little bits of old-fashioned wisdom—phrases such as, "For an Irishman, talking is a dance," or "It's no use carrying an umbrella if your shoes are leaking." But what I learned in Ireland went much deeper than these idioms.
In my case, I learned about the Dublin bus system and how to make cabbage actually edible. I learned the rules of rugby and a handful of Gaelic words that I've mostly forgotten since.
I met my extended family—people with my mother's maiden name who didn't look like me and didn't talk like me, and were so distantly related from me that the paper family tree we brought was worn and wrinkled from being pulled out and pored over and refolded so many times. But despite being my second cousin thrice removed or whatnot, these people were family from the moment we met. They took me in, fed me meals and took me to the most fabulous Irish wedding. They taught me that family bonds stretch a lot further than you might ever know.
But mostly, I learned a lot about myself while studying there. Visiting another country is nearly always an enlightening experience, but what I've realized is that you usually learn as much or more about yourself as you do about the new place.
While living in Dublin, I felt like met myself for the first time all over again. I found a renewed sense of independence in sitting alone on a bus, watching the scenery zip by. I found new favorite dishes (read about one on page 27) and learned to appreciate real food—the kind that's grown, raised and made simply. I learned that I love architecture. I learned what it means to love a place, to let it become part of you and let yourself become part of it.
Every year, when St. Patrick's Day rolls around, I can't help but think back to my time in the Isle of Eire and the lessons I learned there—especially since St. Paddy's has come to be such a significant part of springtime in Jackson.
While Ireland and Mississippi might be miles apart, geographically and culturally, the two have more in common than you might believe. Mississippi is actually only about 16,000 square miles larger than Ireland, and although Dublin vastly outpopulates our city with soul, if you include Jackson's metro area, the two are somewhat comparable.
Ireland is a place with a past wrapped up in agriculture. The people there are family-oriented. Music is an integral part of the culture, and local bars and pubs play host to local musicians night in and night out. Sound familiar?
One thing I found is that the Irish have a real appreciation for their cultural identity, both in its historical sense and in its modern equivalent. I remember students on campus in an apartment near ours practicing the Irish language—a dead language, with no practical modern use—just to keep that part of the country's history alive. I participated in pub crawls honoring Irish music and classic literature. I smile fondly looking back at my photos of hordes of Irishmen and women going into the cobblestone streets and raising a pint of Guinness at exactly 5:59 p.m. on Sept. 23, 2009, toasting "To Arthur!" and breaking out in joyous renditions of Happy Birthday to the man that created Ireland's signature beer.
I studied in Dublin in the fall, so I missed St. Patrick's Day itself, but I heard tales of the citywide celebrations, which seem to take on a sort of funny confluence of native Irish culture and a globalized partying mindset.
But Dublin isn't the only place I've lived where St. Patrick's Day and Irish culture are a big deal. After I graduated from Millsaps College, I moved to Boston, Mass., for two years. Boston is very different from Jackson, with its size, its weather, its noise and brashness. St. Paddy's in Boston is all Southie accents, rough pride and women with big hair selling access to their bathrooms for $5 a trip. Getting on the T (Boston's subway) the morning of the St. Patrick's Day parade is an adventure like no other. Green-clad locals and tourists pack into train cars like sardines until it's just an indistinguishable mass of bodies. Despite the inherent risk of being crushed by the mob, strangers become friends and trek across the city together.
Boston has lessons we could learn, too. Bostonians are fierce in their love for their city, whether its cheering on the Red Saawx, fighting those pesky Canadians at a Bruins match, claiming its seafood as best in the world or boisterously shouting from the rooftops (sometimes literally) on St. Paddy's Day.
St. Patrick's means different things to different people and different places. How we celebrate here in Jackson is different from how they celebrate in Dublin or in Boston or in San Francisco or in Montreal. To me, the day has always been a combination of celebrating a specific culture—one that happens to be my heritage through my mother's side—and celebrating local frivolity. It's often a day when tourism and local celebrations merge—and isn't that the best type of tourist attraction? Isn't the idea that what your locals are doing is so fun and so exciting that others just have to come along and experience it, too? Certainly we've seen that as our own Mal's St. Paddy's Parade has grown from a smattering of friends parading down the street to a highly anticipated weekend drawing tens of thousands to our city.
So this weekend, as you revel with your friends and family, as you drink green beer and catch beads and listen to music and frolic, take time to appreciate being part of a celebration that is at once both global and utterly unique to Jackson.
Besides abiding by what is probably my favorite bit of Irish wisdom ("What butter and whiskey will not cure, there is no cure for."), I urge you to do as the Irish do, and as Bostonians do: Have pride in our city, our state and the cultural identity we are forming for ourselves, on St. Paddy's Parade day and beyond.