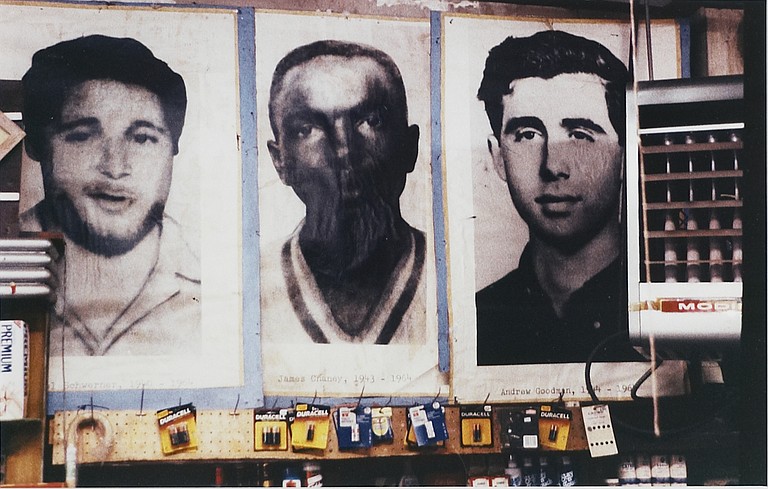 "Icons of Freedom" at the Mississippi Museum of Art highlights the arduous trek to the polls and the strenuous battle for equality during Freedom Summer in 1964.
The exhibit covers civil-rights milestones beginning in the 1950s, from the 1955 murder of Emmett Till to the 1968 Poor People's Campaign—a time when Martin Luther King Jr., and other civil-rights leaders fought alongside the destitute for jobs, housing and health care.
"It recognizes not just the 'big names' like MLK (and) Medgar Evers, but also (includes) artworks that depict the unknown foot soldiers and unrecognized volunteers who were a huge part of the movement," says Beth Batton, Mississippi Museum of Art's curator of the collection.
Ben Shahn's black-and-white lithograph, which David Goodman of the Andrew Goodman Foundation loaned to the museum, depicts three civil-rights workers murdered in Neshoba County on June 21, 1964. The deputy sheriff, Cecil Price, who was a member of the Ku Klux Klan, arrested James Chaney, a 21-year-old African American from Meridian, along with Andrew Goodman, 20, and Michael Schwerner, 24, for traffic charges near Philadelphia, Miss. That night, members of the KKK abducted and killed the men. Their bodies weren't found until Aug. 4 of that year, buried under a dam. Photographer Milly Moorhead West took a photo in 1984 of the "missing person" posters of the three men, which hung behind some batteries and saltine crackers in civil-rights activist Aaron Henry's drugstore in Clarksdale.
"That shows that these three civil rights workers have not been forgotten. They are a part of Mississippi history, American history, and the struggle for freedom and voting rights," Batton says.
Another feature on display is an unfinished quilt by Gwendolyn Magee about the Freedom Riders titled "By Bus, By Plane, By Train, They Came." Magee's husband, D.E. Magee Jr., loaned the quilt to the museum in honor of this exhibit. Names Freedom Riders are typed on white cloth and lay against the "quilt," which is merely a wide, thin black cloth with ragged ends.
The name-tagged white cloth outlines a map of the southern states, showing where the Freedom Riders traveled through on their quest to integrate public accommodations in the South.
"She tracked down the names of all the people (443 foot soldiers) and printed them on pieces of fabric on the quilt," Batton says. "It was in an exhibit in Montgomery (Ala.). She died before she could finish it."
Other featured artworks are photographs of Martin Luther King Jr. by Ernest C. Withers; an etching of King by John Wilson; a gelatin silver print photo of a plantation worker in the field titled "While There Is Still Time" by Roland Freeman; an oil canvas portrait of Medgar Evers; and another of Myrlie Evers-Williams by Jason Bouldin. "Pieces like these make (this exhibit) unique," Batton says. "And also the grouping of them is unique. We don't normally just show these pieces in one gallery. Here, they will be all together in one space."
Batton says the artwork is beautiful, unique and educational. It is a part of history that has helped shape how far America has come and what America is today. "People should come view the exhibit not just because it is important, but it celebrates and commemorates the victories that the unnamed and named civil-rights workers have achieved for our country," Batton says. "There is still a lot of work to be done, but this is a chance to reflect and celebrate."
Freedom Summer veterans will visit Mississippi Museum of Art (380 S. Lamar St.) June 26 for a reception and tour by civil rights-era photographers. The exhibit runs May 24 through Aug. 3. Admission is $10 for adults, $8 for seniors and $5 for students. For more information, visit msmuseumart.org.