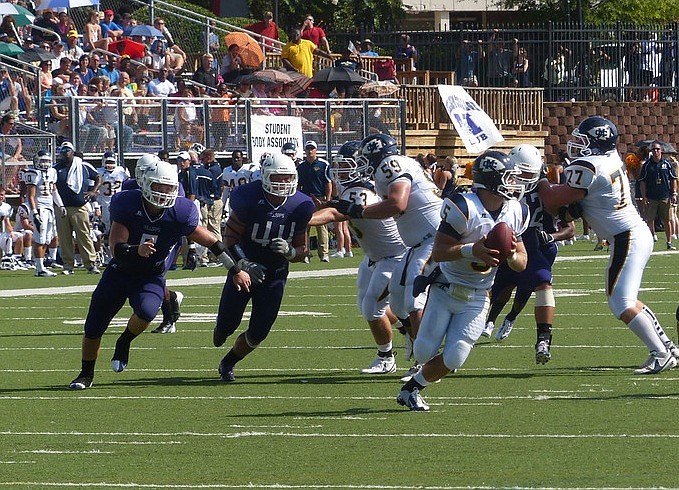 Thursday, September 19, 2013
Every college football team in the state—except two—has at least one loss already this season. The University of Mississippi is undefeated after the Rebels went to Texas and spanked the Longhorns 44-23 last Saturday. The undefeated second team, the Millsaps Majors, opened the season with a big win against rival Mississippi College. The Majors survived a scare last week against LaGrange. Millsaps rolled up nearly 400 yards of offense with 199 passing and 200 rushing yards to go along with more than 40 minutes of possession time, but still only defeated LaGrange 28-24. The Majors had four turnovers and the Panthers' passing attack burned Millsaps for 359 yards.
LaGrange scored first by recovering their own fumble in the end zone for a 7-0 lead in the first quarter. Millsaps took control of the game by scoring 21 unanswered points in the first half to take a 21-7 lead at halftime.
Down but not out, LaGrange scored a touchdown on their opening possession of the third quarter to cut the Millsaps lead to 21-14.
The Majors started the fourth quarter with a touchdown off a Panthers fumble. Mike Barthelemy found the end zone off a five-yard run to give Millsaps a 28-14 lead.
LaGrange mounted a serious rally in the final 10 minutes of the game. The potential comeback started with a 30-yard field goal that trimmed the Millsaps lead to 28-17.
The Panthers used a fumble by Millsaps running back Taz Watson to score a touchdown with half the fourth quarter to play. LaGrange had the Millsaps lead down to 28-24 with 7 minutes remaining in the game.
Things got scarier for the Majors after Zac Thrasher threw his second interception of the day. LaGrange was poised to steal the game with a minute, 44 seconds left to play in the fourth quarter, but the team saw its hopes of a comeback dashed when the Panthers fumbled the ball back to the Majors on the next play.
The Majors' defense not only saved the game, but also registered six sacks and forced six fumbles with Millsaps recovering three of those fumbles. Jeff Milner and Zach Bell terrorized the LaGrange offensive line. Milner had 3.5 sacks, two forced fumbles and seven tackles. Bell added two sacks and eight tackles.
Millsaps' kick-return man John McDowell averaged 30 yards per return to set the Majors up in good field position all day long.
The Majors seek to keep their undefeated season alive this week at home against Point University. Millsaps and the Skyhawks kickoff this Saturday, Sept. 21, at 1 p.m.