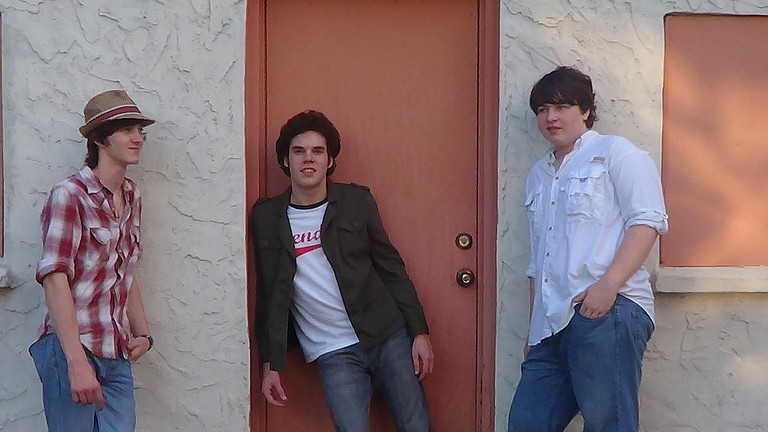 Wednesday, October 9, 2013
The StoneCoats, a Brandon-based indie-rock band, spends hours every week pushing its practice space, a barn outside of Brandon, to its sonic (and electrical) limits. The band formed more than two years ago, and many of its original songs are products of its rustic soundstage.
"We only got the sheriff called on us once," lead guitarist Carson Bristow, 17, says about the late-night jam sessions in the barn. He and 
his brother, drummer and bassist Leighton Bristow, 19, teamed up with their best friend, lead vocalist and rhythm guitarist Sam Reed, 20, two years ago to form The StoneCoats. They've seen shifts in the lineup this year due to members going to college, but this trio makes up the core of the band.
While the members of the band aren't old enough to legally drink or gamble, their sound is mature beyond their years, emanating rawness and cohesive unity.
"It really just comes down to jamming," Reed says. "When you're relaxed, you get into a creative zone. That's really how we write our songs."
Getting into that "creative zone" doesn't happen overnight. They practice up to 60 hours per week when they can—20 to 30 hours per week during the school year. All three musicians merge their efforts when writing songs, a collective experience that takes time and patience.
All of it is paying off. The band recorded its EP, "Change," at Morningbell Records & Studios this summer under the tutelage of local musician and Morningbell owner Drew McKercher, showcasing The StoneCoats' musical range and songwriting proficiency.
Tracks such as "Remember When" and "Leave Me Be" combine a soulful, neo-blues sound that resembles Alabama Shakes and The Black Keys. Songs such as "Fool for You" and "Great Communicator" give off a more low-key indie vibe.
The band is looking forward to a release party for "Change" Oct. 25 at Brandon High School (3090 Highway 18, Brandon, 601-825-2261) during the pre-game activities of the football game against Oak Grove High School. The guys also hope to plan a statewide tour for the near future.
"Our goal is for a steady following," Leighton says, "so that we can perform our own songs. We want to be as original as possible."
Listen to The StoneCoats' EP, "Change," on ReverbNation. Visit thestonecoats.com, and find the band on Facebook and Twitter.
Check out all of JFP's 2013 Artists to Watch here.