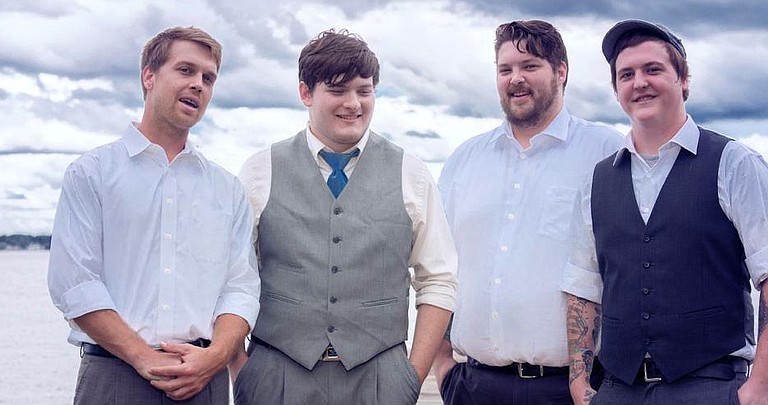 Wednesday, November 20, 2013
When it comes to music, Micah Smith has what every performer needs: soul and dedication. As a young worship leader at Highland Chapel, he found the same characteristics and "must haves" in a couple of fellow churchgoers. When he met Alex Ingram, 25, and Chris Graham, 24, they were playing in a pop-rock band called All Day All Night.
"Alex asked me to rewrite lyrics and re-record one of their songs. They really liked it, so we started playing together, just casually at first," Smith says. They played with a friend, Jonathon Hernandez, before Mick Parsons, 27, former drummer for Jonezetta, became the group's permanent percussionist.
"His joining really made everything feel complete," Smith says. "We just all really clicked in terms of our musical sensibilities and what we wanted from it."
Sun Ballet considers itself indie rock, but each member has completely different music influences with, of course, a few common interests. Ingram, lead guitarist, grew up listening to bands such as All Get Out and As Cities Burn. Graham, the band's bassist, played mainly in metal bands before Sun Ballet and listens to The Dangerous Summer, Go Radio and The Story So Far.
Parsons, on the other hand, brings more of a classic alternative feel to the group; one of his favorite albums is The Cardigans' "Long Gone Before Daylight." Rhythm guitarist and vocalist Smith, who also writes a music column for the Jackson Free Press, says that Dear and the Headlights and The Format influence his lyric writing.
"Most of the time, our songwriting process involves me bringing a bare-bones song concept to the guys where, musically, it hasn't been given the full treatment yet," Smith says. "My first focus is always lyrics, then the vocal melody, and once I'm happy with those, everyone pitches in on how the final song will sound."
Sun Ballet only performs original music. Smith recognizes that not incorporating any cover songs may be a setback for the band, but he would rather the members be able to fully express themselves musically.
"I consider myself a songwriter first, and all of the guys in the band are way too creative to hide behind other people's music," he says. "There's definitely nothing wrong with playing (mostly) covers, but it wouldn't be true to who we are."
The biggest difference in Sun Ballet and other bands in Jackson lies in its stylistic choices. It does not steer clear from the sound of pop. Smith's voice may not be rough and rowdy, but the softness and delivery of well-written lyrics is beautiful and even quite comforting. This band gives listeners the opportunity to do what they should in the first place—to listen to verses try to make out what is being said through the loudness of power chords and repetitiveness.
The band has two three-song EPs on iTunes, Amazon and Bandcamp. "Merit" is more on the singer-songwriter side, whereas "Vultures," released in late July of this year, is a rock album. "With each of our songs we try to create a different yet cohesive feel," Smith says.
Sun Ballet performs Nov. 22 at Ole Tavern on George Street. The band is also currently working on material for a full-length album. The guys plan to start recording an EP in early 2014.
"We've actually struggled a lot with finding shows in Jackson, which is a pretty unfortunate fact. Again, just stylistically, we don't match a lot of what's here," Smith says. "Hopefully, in the near future promoters won't be afraid to throw us on to a show for that difference, though. ... I think we have a greater audience in our city, and it's just a matter of finding our way in front of them."
Sun Ballet opens for Sick/Sea at 9 p.m. Nov. 22 at Ole Tavern on George Street (416 George St., 601-960-2700). Visit sunballet.bandcamp.com, or find the band on Facebook.