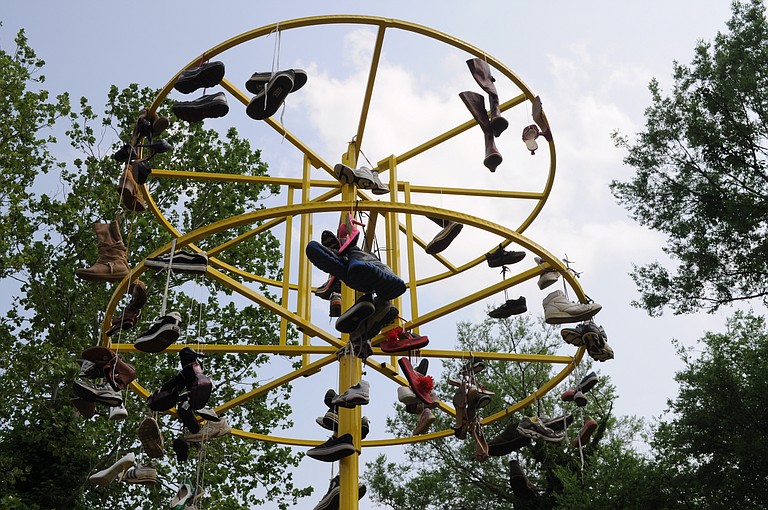 The sun is beating down Saturday, May 18, like it hasn't before in 2013 as dozens of people move through the streets of Midtown toward 126 Keener Ave., the heart of FIGMENT Jackson.
As this reporter and trusty photographer Trip Burns pass over Wightman Street, we see a display to the left under a tent with whirligigs, man-sized curly q's and other manners of artwork nestled in what would otherwise be a blighted alley.
We bear right on Wilson Street headed for Keener, passing a painting table and a chalk-drawing area littered with dozens of kids--ages 3 to 60--on their hands and knees turning what mayoral candidates would have called a crumbling street into a 1,500-foot work of art.
When we finally arrive at Keener, a crowd of 75 or so is spread throughout the rustic warehouse-turned-art studio manned by local painter Greg Gandy. He's transformed his usually disheveled studio space into a playground for the creative. Six 6-by-4-foot canvasses line the walls, and a table in the middle of the studio holds most every color paint you can imagine. Children of all ages, their parents and college students let their inner-artist pour out as Gandy looks on with a seemingly painted-on grin.
There is no entrance fee; visitors get friendly greetings and paintbrushes.
"It's crazy," Gandy says as he welcomes us in. "I must have had 10 to 20 people in my studio painting every minute of (Saturday). Grab a paint brush."
As we walk through the back door, we step out onto a serenely manicured lawn (part of Gandy's work-for-cheap-rent agreement). The band is jamming out on a stage set up at the east end. A small crowd is gathered in front, getting down like it's 15 degrees cooler. On the west side of the lawn, a camping tent or two sit next to a brick fire pit in the shape of Mississippi. It's completely full of sticks and vines Gandy has pulled off the fence to get the yard ready for the event.
A dome-climber jungle gym sits outside the iron fence that encloses the back yard--complete with colorfully decorated triangle sections, some covered, others striped or criss-crossed. Dozens more children run around inside and outside the structure, surrounded by tents where parents sit and watch their kids play as they take in the sun. Skateboarders and bicyclists shout to each other as they ride up and down the street.
Flash forward to Saturday night. It's 10 p.m., and another group of musicians is on stage. There have been four others in between the first band and this one, and they are about to wrap it up. Inside, the overhead lights go off, and the laser lights come on.
Jackson's hottest young spinner, D.J. Young Venom, takes the stage and delights the now college-age-only crowd. Nine other D.J.s will perform before the night is through. Tents are pitched in the back yard for camping. The environment is safe, and the drinks are cold.
This is how Midtown does FIGMENT, an annual interactive arts festival.
"It's always just so awesome and humbling that it happens like it does," Midtown Partners spokeswoman Whitney Grant says. "We had a great turnout Saturday, and into the night. Dozens of people showed up to volunteer and help us pull it off, and we definitely got the first hot days of the summer."
Jackson is one of seven cities in the United States to host FIGMENT, which is a non-profit based out of New York that aims to spread creativity through events similar to the one in Jackson. The other six cities are New York, Chicago, Boston, Washington D.C., Pittsburgh and San Diego. They've been holding the event since 2007, and this was their third in Jackson since 2011.
Looking back at the weekend, Gandy says he thought patrons, especially the kids, had as good a time expressing themselves as he did watching and teaching them. "I felt like things went really, really well," he says. "It was hard to tell how many people were there because it was so spread out, but my station was crowded all day. Kids were in and out of there. It was very well attended."
Gandy is shopping the paintings, which everyone who passed through the studio worked on in some capacity, to an art studio in order to raise money for future Midtown events, the next FIGMENT included.
Last weekend's event may be over, but Grant says she hopes the program helped build momentum for Midtown headed into the next gallery tour on June 1.
"What I'm really happy about now is that we have this really interesting sculpture garden," Grant says. "... We also built a pizza oven together over at Pearl River Glass Studio. I'm always, and again this year, really happy with the fact that this happens, and that it happens right here in Midtown."
Photo gallery at jfp.ms/figment2013.