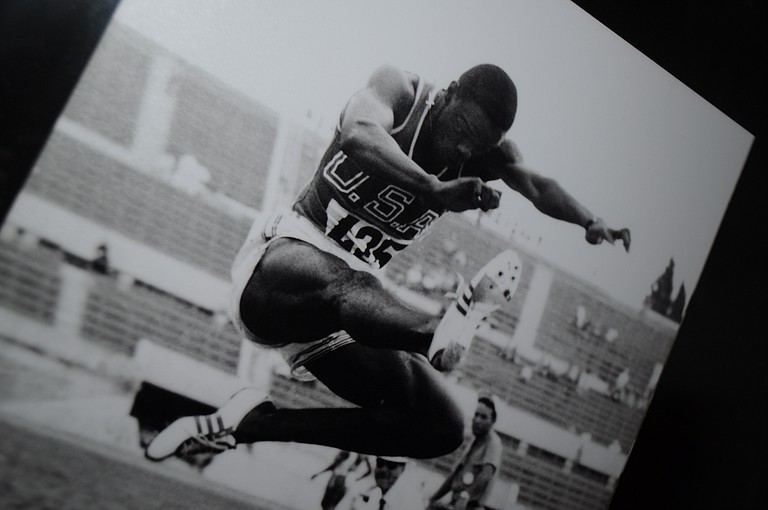 Recently, I attended an event at the Mississippi Sports Hall of Fame, which showed off renovations and expansion of the Olympic Room at the museum. The Olympic Room now includes every medal winner from Mississippi, and is updated to include the recent 2012 London Games.
Executive Director Rick Cleveland has done a tremendous amount in his short time leading the museum. Museum organizers promise new video kiosks in the main room, updates to the Olympic Room and more improvements in the coming months.
Two Olympic athletes, Bianca Knight and Ralph Boston, were at the event. Knight was part of the 4x100 meter relay team that was the first group of women to run the 4x100 in under 40 seconds on their way to a gold medal in London.
Knight explained that she hopes that the 2016 Olympics in Rio de Janeiro, Brazil, will be her best Olympics on the U.S.A. track and field team since she will be entering her prime as a track athlete. She has already begun to focus on that goal.
Boston is a former world record holder in the long jump. He participated in three different Olympic Games.
He also broke Jesse Owens' world record in the long jump, which Owens held for 25 years after setting the record in 1935. Owens' record was 8.13 meters (26 feet, 8 inches), and Boston shattered the record by jumping 8.21 meters (26 feet, 
11-1/4 inches).
Boston first competed in the 1960 Rome Olympics, and made the team again four years later at the Tokyo Olympics in 1964. He finished his Olympic career at the 1968 games in Mexico City.
In Tokyo, Boston battled with Russian long jumper Igor Ter-Ovanesyan, who in 1962 had broken Boston's world record, set in 1961, in the long jump. Boston took his world record back in August 1964 just before the Tokyo Olympics began in October, but both men dueled throughout each round of the games.
Lynn Davies of Great Britain upset both Ter-Ovanesyan and Boston when he won the gold medal. Boston would have to settle for the silver, and Ter-Ovanesyan took the bronze.
The Mexico City games might best be known for the photo of African American sprinters Tommie Smith and John Carlos with their fists raised in the air on the medal podium, but I remember another iconic photo that gets lost in the political moment of Smith and Carlos.
Boston had taken Bob Beamon under his wing as his unofficial coach after Beamon was suspended from University of Texas at El Paso for refusing to compete against Brigham Young University, whom he alleged had racist policies. At the time, heading into Mexico City Olympics, Boston and Ter-Ovanesyan shared the world record, each having jumped 8.35 meters (27 feet, 4-3/4 inches).
In his first jump in the final, Beamon jumped 8.90 meters (29 feet, 2-1/2 inches), which broke Boston's current record by nearly two feet, destroying the world record. Beamon didn't known what he had accomplished when the announcer gave the distance in meters.
Upon finding out his winning distance in feet, Beamon collapsed to his knees. A photographer snapped a shot of him with Boston and Davies, the two men supporting Beamon after he found out he smashed the world record. Boston settled for the bronze, and Klaus Beer of East Germany won the silver that year.
Boston, now 73 years old, has a wonderful grandfatherly smile that lights up the room. He seemed to be the only man in the room--everyone wanted to talk with him that day.
When I asked which of his three Olympics was his favorite, he wasted no time in saying, "The first one."
He explained that the Olympics are different from now. "I had a job," Boston says. "It doesn't work that way now." He also recalled meeting Jesse Owens, Cassius Clay (better known as Muhammad Ali) and several future NBA Hall of Famers at his first Olympics.
My final question to Boston was about what it was like being in the same Olympic village with all those great athletes. Boston paused for a moment.
"There is no way or words to truly describe it," he said, adding, "but if I had to use one word, I would say wonderful."
More like this story