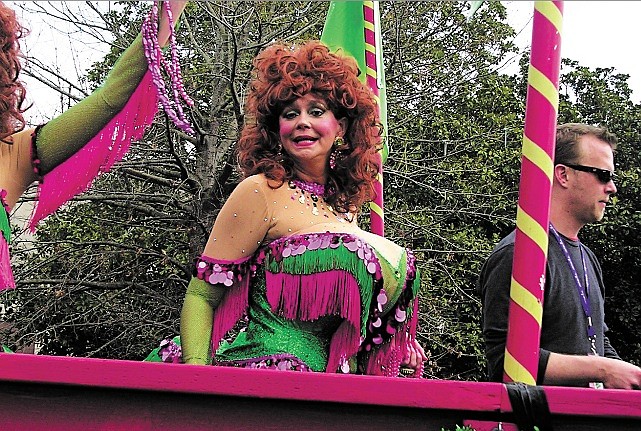 Wednesday, March 20, 2013
When Jill Conner Browne dubbed herself a Sweet Potato Queen in 1982, she launched a brash, quirky, self-deprecating and, above all, sassy brand of feminism that people worldwide are still embracing three decades later. Browne, a Tupelo native and now Jackson resident, has since become "Head Boss Queen" to the 6,313 registered Sweet Potato Queen chapters in more than 20 countries that have formed. Jackson remains the epicenter of the Queendom, with the Zippity Doo Dah weekend and parade bringing women and families from all over to town for four days jam-packed with events. Local chapters adopt their own themes--such as the Queens of Nekkid Truth of Murfreesboro, Tenn., or the Ugly Mothers of Winston-Salem, N.C.--and design unique costumes, but there are several things that make a Sweet Potato Queen, no matter where she lives.
Tiara: Make it, buy it, steal it from your big sister--where you find your tiara doesn't matter so long as you have one. After all, what's a queen without a crown?
Footwear: Originally, Queens marched in majorette boots from the Gotham Boot Company. The boots don't come in pink, so the Queens just painted them pink with the same paint they use for the floats. Nowadays, pink athletic shoes are common, too.
Hair: It should be big. As big as you can manage, provided you leave room for a tiara on top.
Outfits: Costumes are made with love by O-fficial Sweet Potato Queen costumers or Queens handy with a sewing machine. Most Queens have never met a sequin, feather or bit of fringe they didn't like, so feel free to pile it on.
Colors: Traditionally, Sweet Potato Queens are decked out in pink and green, but each chapter picks its own color scheme. This year's parade Grand Marshal, 100-year-old Aunt Faye of Texas, wears black and yellow for her chapter's colors.
SPQ Bookshelf
"Sweet Potato Queens' Book of Love," by Jill Conner Browne (Three Rivers Press, 1999, $13.95)
"God Save the Sweet Potato Queens," by Jill Conner Browne (Three Rivers Press, 2001, $13.95)
"The Sweet Potato Queens' Big-Ass Cookbook (and Financial Planner)," by Jill Conner Browne (Three Rivers Press, 2003, $15)
"The Sweet Potato Queens' Wedding Planner/Divorce Guide," by Jill Conner Browne (Three Rivers Press, 2007, $13.95)
"Sweet Potato Queens' Field Guide to Men: Every Man I Love Is Either Married, Gay, or Dead," by Jill Conner Browne (Three Rivers Press, 2004, $13.95)
"The Sweet Potato Queens' First Big-Ass Novel: Stuff We Didn't Actually Do, but Could Have, and May Yet," by Jill Conner Browne with Karin Gillespie (Simon & Schuster, 2007, $22.95)
"The Sweet Potato Queens' Guide to Raising Children for Fun & Profit," by Jill Conner Browne (Simon & Schuster, 2008, $22.95)
"American Thighs: The Sweet Potato Queen's Guide to Preserving Your Assets," by Jill Conner Browne (Simon & Schuster, 2008, $23)
"Fat Is the New 30: The Sweet Potato Queens' Guide to Coping with (the crappy parts of) Life," by Jill Conner Browne (AmazonEncore, 2012, $14.95)