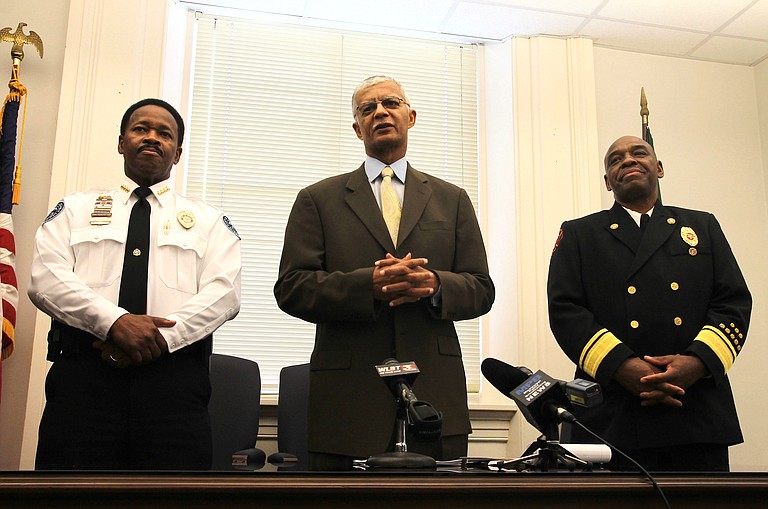 While some of his appointments may be delayed, Mayor Chokwe Lumumba has made a few other decisions on staffing. One of those is Safiya Omari, who will serve as his chief of staff.
It was the first official hiring for Lumumba, who took office July 1 as Jackson's 43rd mayor, and he announced his choice at the July 2 Jackson City Council meeting.
A Shreveport, La., native, Omari has served as an associate professor of social work and health sciences at Jackson State University since 1999, as well as director of the Southern Institute for Mental Health Advocacy Research and Training. She holds a doctorate in social psychology from Northeastern University.
Omari was co-chair of Lumumba's transition team alongside former Bennie Thompson aide Synarus Green. She sat front and center at the mayor's first council meeting.
Lumumba has made other appointments, including promoting Lindsey Horton from Jackson Police Department deputy chief to the city's chief of police, and Deputy Fire Chief Willie Owens to lead the fire department.
An email sent to news outlets across the city last week distributed information about Owens, who also serves as president of the firefighter's union. The email claims Owens failed the deputy's exam in 1986, and that he had once been placed on administrative leave because of accusation that he stole a car.
Lumumba said Tuesday that Owens' record is in the past, and that's where it will stay.
"I am aware of everything in Mr. Owens' past that is of relevance," Lumumba said. "What I know is that I have known Willie for eight years, and have the utmost respect for him and trust in him. I would like to add that firefighters across the city are extremely happy with his appointment."
The mayor said Monday he wasn't ready to announce any more hirings, but did reveal that he has named a prominent member of his campaign, Hondo Lumumba (no relation) to head constituent services.
"What we tried to do was attack one entity at a time," Lumumba said, "and we're pretty much finished with our hirings in the mayor's office. We have a few more positions, but we've about finished. We hired the police and fire chief. They are going to hire their own staff, but we are going to screen that. They will give us a makeup of their hierarchy, so we can raise objections if we need to.
"Now, we're getting into the departments of finance, city administration and financial planning. We are well into them, as a matter of fact, and we feel good about the people we're hiring."
At the same meeting in which Lumumba announced the hiring of Omari, the dynamic of a new City Hall began to reveal itself. In a surprise move, the Jackson City Council replaced Ward 6 Councilman Tony Yarber with Ward 5 Councilman Charles Tillman as council president.
Tillman got the job on a 4-3 vote, with Yarber, Margaret Barrett-Simon (Ward 7) and Quentin Whitwell (Ward 1) voting for Yarber. New members Melvin Priester Jr. (Ward 2) and DeKeither Stamps (Ward 4) joined Tillman and LaRita Cooper-Stokes (Ward 3) in voting for Tillman.
"I wasn't really surprised," Tillman said. "There have been requests over the years for me to serve in this capacity, and I've always had a 'been there, done that' mentality. I have always wanted to see a younger generation take these leadership roles so we can grow young leadership. At first, I turned them down for that reason, but the conversation turned and they told me they felt that with a new mayor and a young council, I could bring a calming effect to the council."
Lumumba said he was surprised by the change, but added that he was still excited about the makeup of the council.
"I just finished my one term under Yarber, and I thought he did an excellent job. To that extent, I was curious about it. I'm very pleased with the composition of the City Council. They have enough young people, enough diversity and enough experience. I think they've put together a great team. I like that the young guys are in there asking questions and being heard. ... As long as they remember that we are all on the same page and we all want what's best for Jackson, we'll be fine."
The City Council was set to vote to affirm both appointments at a special meeting of the council Monday, but Tillman delayed the vote, saying he wanted to "be accommodating."
Instead, the council scheduled a public hearing for Thursday, July 18, at 6:30 p.m. for citizens to come and voice their opinions on the nominations.