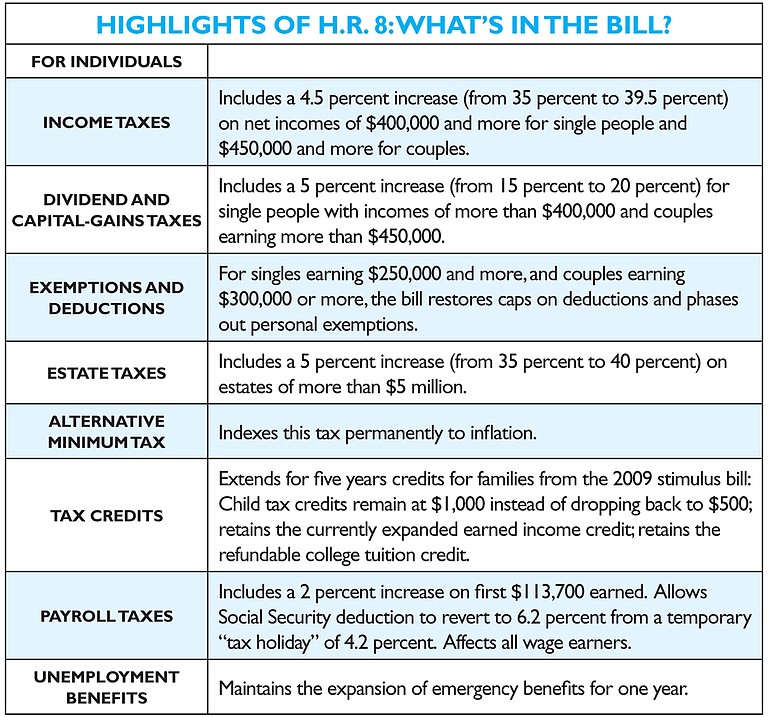 Wednesday, January 9, 2013
The U.S. Congress kept the entire electorate on tenterhooks for weeks over the "fiscal cliff"--mandatory tax expirations and spending cuts that Congress imposed on itself last year.
As 2012 closed, lawmakers dove right off the so-called cliff. Midnight, Dec. 31, came and went without an agreement. They rallied on New Years Day, however, when the House approved legislation the Senate negotiated and passed earlier in the day.
The final deal fell short of satisfying Obama's campaign promise to increase income taxes on those with taxable incomes of $250,000 or more. Also, some Republicans seemed to break their pledges never to raise taxes, both Mississippi senators among them. Technically, however, Republicans who voted for the bill after the Bush-era tax rates expired just hours before, didn't vote for increases at all: They voted to rescind some increases that occurred due to the expirations.
Congress left the door open for more fiscal wrangling over raising the debt ceiling and producing an actual budget. Congress managed to avoid the automatic, across-the-board spending cuts; however, the deal kicks that sequester can down the road by only two months. Fights loom over the spending side of the fiscal equation, especially which programs to cut and by how much.
So what did the deal deliver? About 99.3 percent of Americans will not see their income taxes go up; however, everyone's payroll deductions increased by 2 percent on the first $113,700 of wages. That's because the deal allowed expiration of a temporary "tax holiday" on Social Security deductions from 6.2 percent to 4.2 percent. The increase is likely to hit Mississippians, whose median household income in 2011 was $36,919, especially hard. For families at that mid-point, it represents $61.50 per month they won't see in their paychecks in 2013.
Jackson Mayor Harvey Johnson Jr. urged Congress to reconsider the increase. "City workers and many of our citizens, particularly those who make up Jackson's blue collar workers, will feel this the most," he said in a statement. "I am certain that this rise in taxes is going to be especially difficult among our working class and working poor."
On a brighter note, the deal preserved the child tax credit, which was scheduled to drop from $1,000 to $500, the expanded earned income tax credit and a refundable credit for college tuition. For those who lost jobs, the bill retained extended unemployment benefits for a year. It also permanently indexed the alternative minimum tax to inflation, ending an annual drama for some 
30 million middle to upper-middle earners.
At the top of the income ladder, the bill raises marginal income tax rates, capital gains and dividend tax rates. It increases estate tax rates, and phases out some exemptions and deductions.
The White House said the increases would raise $620 billion in new revenue over 10 years and cut the deficit by $737 billion. Looking at it another way, the Joint Committee on Taxation cited the lost revenue of letting all of the Bush-era tax cuts expire, and estimated the bill would increase the nation's deficits by $3.9 trillion over the next decade.
Obama left Washington, D.C., to rejoin his family on their Hawaiian vacation soon after the House vote. He "signed" the bill, dubbed the American Taxpayer Relief Act, aka the McConnell-Biden plan, from Hawaii using an autopen device located at the White House Jan. 3.
The Vote
The so-called "fiscal cliff" deal split Mississippi's congressional delegation down the middle. Lone Democratic Rep. Bennie Thompson voted for it, as did our Republican senators, Thad Cochran and Roger Wicker.
"If you see a swimming pool full of 100 drowning people, and you can save 99 of them, you go ahead and do that," Wicker told Mississippi Public Radio. "You don't refuse to help just because you can't do it all."
"It is not perfect, and there is still work left to do," he said in a statement after the Senate passed the bill with a bipartisan 89-8 vote. 
 "Congress and the President must reduce the federal deficit. ... Today's vote is a step in the right direction, but there is still a long way to go."
Mississippi Republicans in the U.S. House of Representatives--Reps. Gregg Harper, Alan Nunnelee and Steven Palazzo--joined a majority of that chambers' GOP to vote no. The Republicans voted no 151-85, and Democrats voted yes 172-16. In the end, it passed the House 257-167.
Harper tweeted about his vote: "For four years, I've fought to reform entitlements and cut spending. This bill accomplishes neither of these goals."
Nunnelee posted his statement on Facebook: "Out-of-control spending is the reason we are $16 trillion in debt and, unfortunately, this deal adds to the problem. Allowing more revenue today and promising to look at cutting spending down the road is the oldest trick in the Washington book. Somehow, the day to cut spending never comes. I cannot support a deal that adds to our spending-driven debt crisis."
Palazzo also released a statement, which began, "This may be a deal, but it's no solution."