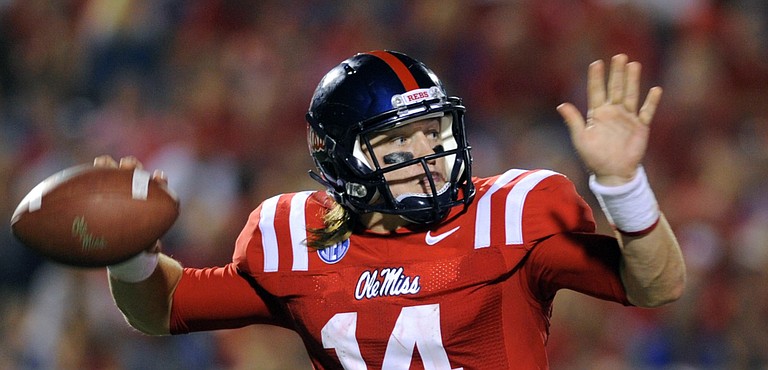 Wednesday, August 28, 2013
Each year since I began writing the college football preview, I have compiled a short list of the preseason players to watch for the Conerly Trophy, which the Mississippi Sports Hall of Fame awards to the best football player in the state at a four-year college each year.
Last season, Ole Miss quarterback Bo Wallace won the award. An Ole Miss player has won the award five times (Eli Manning won the award twice, in 2001 and 2003), the most from one school in the state.
Mississippi State and Southern Miss have each seen a player win the award four years. Delta State University has seen two players win the award. A Millsaps College player has won the award once.
Bo Wallace, quarterback, Ole Miss
Bo Wallace is looking to become the first player in the history of the Conerly Trophy to win the award in back-to-back seasons. The Ole Miss single-caller was one of the main reasons the Rebels won six games to reach bowl eligibility last year.
Last season, Wallace threw for 2,994 yards while completing 235 of 368 attempts with 22 touchdowns. Wallace could improve by cutting down on interceptions.
During the 2012-13 season, Wallace threw 17 picks. Wallace also proved he has some mobility, finishing second on the team in rushing, going for 390 yards and adding eight touchdowns on the ground.
Donte Moncreif, wide receiver, Ole Miss
It took a bit of time, but Donte Moncreif exploded against LSU and Mississippi State at the end of the season. Moncreif was nearly uncoverable against those schools.
Moncreif ended last season with 66 catches for 979 yards, and 10 touchdowns. The Ole Miss receiver tied a school record with his 10 touchdown grabs.
Denzel Nkemdiche, linebacker, Ole Miss
It might only be a matter of time before his brother Robert becomes the headliner of the Rebels' defense, but last season's defensive star was Denzel Nkemdiche. The Ole Miss linebacker was a force all over the field, terrorizing opposing offense for the Rebels.
Nkemdiche led Ole Miss with 82 tackles last season. The linebacker added three interceptions, three sacks, four forced fumbles and 13 tackles for a loss during a standout first year as a starter.
Ole Miss wildcard: D.T. Shackelford, a linebacker returning from a knee injury.
Tyler Russell, quarterback, MSU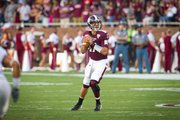 Tyler Russell put his name all over the Mississippi State record book last season. The Bulldogs passing records aren't like Florida's, but Russell still put up some impressive numbers. Russell passed for 2,897 yards on 231 completions with 391 attempts. He also threw for 24 touchdowns with just 10 interceptions.
The Conerly Trophy might have gone to Russell last year if not for his slump at the end of the season. The quarterback must play better against Alabama, LSU, Texas A&M and South Carolina if he hopes to win this year.
LaDarius Perkins, running back, MSU
The return of last season's top rusher, LaDarius Perkins, will help Russell in the passing game. The Bulldogs running back rushed for 1,024 yards on 205 carries with eight touchdowns.
Perkins added 19 receptions for 160 yards with two touchdowns. He is also the leading returning receiver for the Bulldogs.
Benardrick McKinney, linebacker, MSU
Teammate Cameron Lawrence, who led the Bulldogs in tackles, overshadowed Benardrick McKinney last season. He also got lost in the praise for Ole Miss linebacker Denzel Nkemdiche, but that doesn't mean the Mississippi State linebacker wasn't just as much of a play-maker.
McKinney was second on the team last season with 102 tackles. He also added a sack and 4 1/2 tackles for a loss.
Mississippi State wildcards: Gabe Jackson, NFL-talent offensive guard, and Nickoe Whitley, who led teams with three picks 
last season.
Qua Cox, cornerback, JSU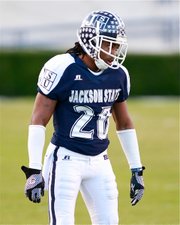 Qua Cox led the SWAC in interceptions for the second year last season. Cox had five interceptions and proved a shutdown cornerback, earning All-
SWAC honors.
The Tigers defensive back is a NFL-caliber corner NFL scouts will watch closely this season. If Cox can make some game-changing plays for Jackson State this season, he will stay on the Conerly voters' minds.
Clayton Moore, quarterback, JSU
Clayton Moore came into his own late last season, leading Jackson State to five straight victories to end the regular season and head into the SWAC championship game. The Tigers quarterback proved to be a dual threat with his arm and his legs.
Moore threw for 1,863 yards with 11 touchdowns, added 633 yards on the ground and rushed for 11 more touchdowns. Another season like that, and Moore could be the first Tiger to win 
the Conerly.
Southern Miss sleepers: Deron Wilson, NFL-caliber cornerback; Allan Bridgford, former four-star quarterback recruit; and Kendrick Hardy, senior running back.
Robert Simpson, defensive lineman, Mississippi Valley State
Robert Simpson was a nightmare last season for opposing offenses. He was nearly impossible to block while leading the nation in tackles for a loss with 22.5.
Simpson also had 59 tackles and added seven sacks. If he can repeat or better those numbers, he should be a finalist for the Conerly Trophy this year.
Keith Villafranco, defensive back, MC
Mississippi College's Keith Villafranco has earned just about every preseason honor a Division III player can garner, as well as several honors last season. Villafranco led MC with 76 total tackles and nine tackles for loss to go along with his American Southwest Conference-leading 59 solo stops. He also had five interceptions and finished second in D-III with six forced fumbles.