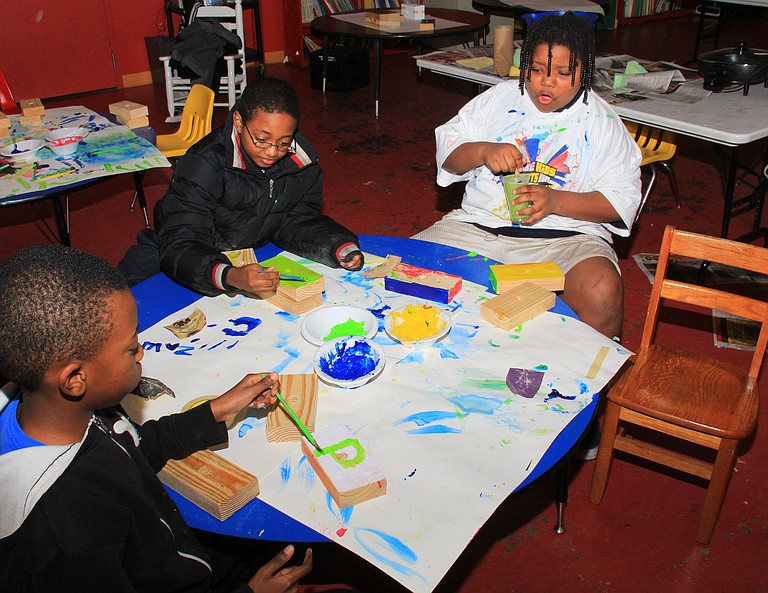 Wednesday, April 24, 2013
Every weekday, dozens of kids stream through the doors of a nondescript one-story brick building on Bailey Avenue. They play games, do homework, make art, and move their bodies. Their laughter rings off the walls inside. In the summer that number goes up to around 300 children, from pre-kindergarten to 12th grade.
This is Operation Shoestring, a community organization based around kids and families that has been making a difference for nearly 50 years.
"Our roots are grounded in the Civil Rights Movement, which in my perspective is about trying to create a community and a society that's good for everybody," says Robert Langford, executive director of Shoestring. "Specifically, the real event that ultimately led to the organization of this entity was the 1966 shooting of James Meredith in his march against fear, when he walked from Memphis to Jackson." As he understands it, after the shooting, the NAACP encouraged people to gather locally and think how they could respond locally to the civil issues that affected the nation.
Langford says the community held a meeting, where they agreed that instead of the standard voter registration drives and protests or marches, what they really wanted was safe places for their kids to play. At the time, places where white and black people mixed were systematically being shut down--pools and ponds drained, parks and playgrounds closed--Jaycee Park near Bailey Avenue was one such victim.
"They formed a board, and they did an assessment of what the neighborhood's needs and strengths were, and they ended up forming this organization in '68," Langford says. "The focus was creating safe spaces for kids, and our work today is, in sort of literal and figurative ways, about exactly the same thing: creating safe spaces for kids."
The cornerstone of that idea is Operation Shoestring's thriving after-school program. Kids in pre-K through 5th grade focus on homework help and well-rounded education programs, including physical education and art. Middle schoolers move to more of a mentorship program, and high schoolers learn about planning for college, life skills, and they have a chance to work in the Youth Employment Program.
In YEP, a small group of juniors are matched up with good jobs around the city--places like the University of Mississippi Medical Center, Barksdale Management or Butler-Snow law firm--where they work 40 hours a week for two months in the summer to save money for senior year expenses and college.
In the summer, the after-school programs turn into all-day summer programs for all ages. Operation Shoestring offers summer-long camps and works with kids at St. Andrew's Episcopal School to throw week-long camps within the main summer program, focused on sports like tennis, basketball or soccer, as well as cooking school, arts and crafts camp, and more.
To fund all those programs, Operation Shoestring throws an annual Spring Fling. This year the event is April 25 at the Mississippi Museum of Art and features the band Mingo Fishtrap. "It's just a party with great food and drink and an amazing band," Langford says. "It's laid-back, no pretense. It's just 20 bucks--we want it accessible for all walks of life."
Langford says the event is about "spreading the gospel" of what Shoestring does, as well as raising money to sustain the organization through its busiest season. "Our expenses go up during the summer. This will help us wrap up the school year and really determine the scale and quality of what we do," he says. "What we do doesn't change, but our resources and our vision shape what we do, and this is about making sure we have enough resources to run great programs for these kids and their families."
Spending an afternoon at Operation Shoestring makes evident how important those programs are. All around, kids are learning different subjects in small, accessible groups in ways that fit their learning styles.
Amber May, the Project KIDS coordinator for elementary-aged children, is a former teacher and says the after-school component of learning is vital to keeping the in-school curriculum on track. The tutors and teachers at Shoestring work with the school district teachers, pointing out places where students are struggling or giving other feedback.
"With all the stress that the JPS teachers have, they might not have time or the chance to teach in multiple ways, so we try to fill in those gaps," May says.
At the end of the day, Langford says, Shoestring wants to be a resource for the entire family, from newborn to parent to grandparent. "Our perspective on it is, if you keep what's good for a child at the center of all that you do, it ends up being good for that child, it ends up being good for his family, for his neighborhood, and for our larger community," he says. "And so our work is about trying to live into that ethos ... but also being a voice for that in the larger community. It's sort of about the ripple effect and getting other people engaged."
Operation Shoestring's Spring Fling is Thursday, April 25, at 7:30 p.m. at the 
Mississippi Museum of Art (380 S. Lamar St., 601-960-1515). Admission is $20. Cash bar. For tickets or to donate, visit operationshoestring.org or call 601-353-6336.