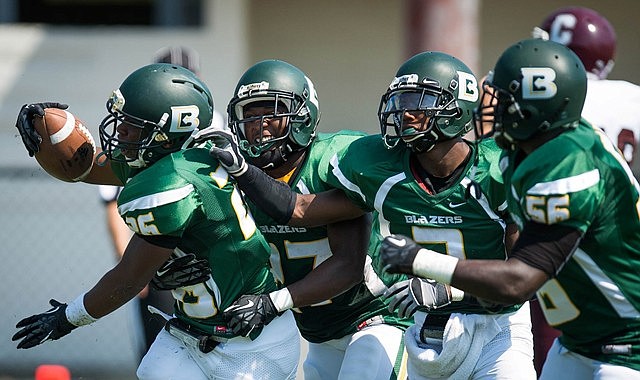 Thursday, September 27, 2012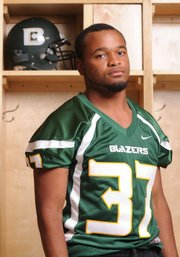 Heading into last Saturday's game, the Belhaven football team didn't have much to cheer for at 0-3. The Blazers opened the season with a 21-10 loss to University of the Cumberlands (KY).
Belhaven fell 24-13 to Louisiana College the next week, and in the Blazers' third game of the season, they came up short in a 36-30 overtime loss to Cumberland University (TN).
At 0-3 to start the season, the Blazers played Campbellsville University (KY), who was also winless on the season. One team exited the game with their first victory of the 2012 season.
Campbellsville had an early 7-0 lead in the second quarter. When punting out of its own end zone, the Tigers punter shanked a punt that the Blazers' Alvin Fairley recovered to tie the game at 7-7. Belhaven took the lead on a21-yard touchdown pass by Alex Williams to Kylan Pollard to go up 14-7.
The Tigers tied the game at 14-14 with just over nine minutes left before halftime. The Blazers' running back Justin Gaines scored on a pair of nine-yard touchdown runs to give Belhaven a 28-14 lead at halftime.
After taking the lead in the second quarter, the Blazers never relinquished it for the rest of the game. Belhaven exploded for 42 points in the third quarter as Kadero Edley scored less than a minute into the quarter to make it 35-15.
Pollard scored his second touchdown on a 44-yard pass from Williams to give Belhaven a 42-14 lead. Justin Mims returned an interception 35 yards for a score to give the Blazers a 49-14 advantage.
Isiah Wiley returned a punt by Campbellsville 65 yards for a pick-six. The Wiley interception for a touchdown gave Belhaven a 56-14 as the rout continued.
Gaines scored his second touchdown of the day on a 30-yard run, and Darrius Wren added a 38-yard interception to close out the third-quarter scoring. By the end of the third quarter the Blazers had a 70-14 lead.
The Tigers scored two touchdowns in the fourth quarter, but the game was already decided as the Blazers earned their first victory this season with a 70-28 win to up their record to 1-3 in 2012. Belhaven set school records for most points scored in a game (70), most touchdowns in a game (10) and most extra points in a game (10).
Gaines finished the game with 105 yards rushing on 11 carries with three touchdowns for the Blazers. Belhaven quarterback Alex Williams finished with 225 yards on 11 for 17 passing with two touchdowns and no interceptions.
Belhaven scored on offense, defense and special teams against Campbellsville. The Blazers face University of Virginia College at Wise this Saturday (Sept. 29).