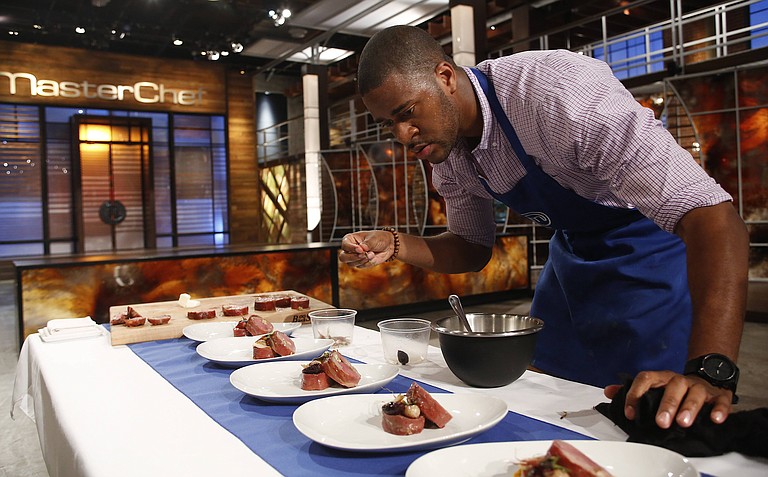 Wednesday, September 26, 2012
I walked into the "MasterChef" kitchen with the confidence of an actual chef. In fact, I thought I knew all there was to know about cooking and food. From day one, I realized that certainly wasn't the case.
Walking into my hotel room for the first time, I met my roommate Joe Maeillano. We got to know each other while on lockdown (aka being sequestered). His cooking style is upscale, and he uses unusual and inexpensive ingredients such as bone marrow, calf's brains, kidneys, hearts and all that "crazy stuff."
From 30,000 to 2
Josh Marks was one of 30,000 hopefuls that attended the open call for season 3 of "MasterChef," FOX's reality cooking competition for home or amateur cooks. The show, hosted by foul-mouthed celebrity chef Gordon Ramsay, began with 18 chefs and slowly eliminated them through various cooking challenges.
Although Marks was ejected from the competition in the 12th episode, two episodes later all eight eliminated contestants had a chance to get back in the show in a challenge judged by those still in the competition. The other contestants chose Marks as the winner of the challenge and he rejoined the kitchen. Marks survived five more eliminations to make it to the season finale, where he took second place.
Josh Marks Fast Facts
Age: 25
Height: 7'0"
Hometown: Chicago, Ill.
Resides in: Jackson, Miss.
Favorite dish to cook: Shrimp étouffée
Standout dishes on "MasterChef": Curry Cornish hen; chocolate soufflé; lamb carimanolas
Getting to know Maeillano and learning how he uses cheap "unwanted" ingredients and makes them gourmet was one of my first lessons in the "MasterChef" kitchen. Unfortunately, he did not advance to the next round, and his stay in the "MasterChef" kitchen was short-lived. But I will never forget my first offal (aka nasty-looking animal innards) lesson. The knowledge Maeillano passed on to me prepared me for a later challenge in the Top 15 round. His advice inspired me to put together a sexy chicken-liver dish with salsa verde and plantain chips.
I knew I had the skills and potential to be greater than a "home cook," but I just had to go through the tangible lessons of life to release my potential. We took cooking classes that taught the essential components of baking, butchering small animals and fish, and as time progressed, we learned advanced lessons as well.
Of course, the mentoring and lessons we learned from the "MasterChef" judges were huge as well. If a contestant can retain that knowledge to propel them along the way, they just might win, or get pretty damn close. Some of the best lessons came from losing, because I became filled with humility—and everybody needs that. When I didn't perform as well in the challenges, I was rewarded with knowledge on how I can come back in the fight with another advantage over my opponent.
The actual challenges were the best learning experiences for me, because I gained so much cooking experience and was introduced to so many opportunities that I would have never received. For example, cooking for Guy Savoy, Alain Ducasse and Daniel Boulud was one of the most honorable experiences in my chef life, especially because they praised my food so highly. I met a chef in New York that recognized me from the show and he was impressed, because he has been applying for a job at Daniel Boulud's restaurant.
Contestants are also put into situations where we are not prepared, like mystery-box challenges. They gave us two seconds to come up with a dish using a hodgepodge of ingredients and it is up to us to find a recipe—whether it instantly comes from the heart, a memorized recipe or you pray for a better idea! The people that use the first and the last method usually are the best in each competition and have the endurance to fight to the end.
I fought my heart out in each challenge, and I fought to the end. Even though I placed second in the overall "MasterChef" competition, I am going to get my prize. It just takes patience.