Wednesday, September 19, 2012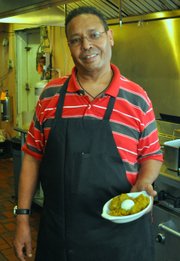 Not even a year after opening the Abeba Ethiopian Restaurant, owner and chef Molley Woldtnsea is shaking things up.
Abeba Ethiopian Restaurant is a local hot spot, a favorite among University of Mississippi Medical Center students and employees in Jackson's health-care and hospital sector. On Sundays, bartenders and servers flock to the restaurant for a relaxing meal or after-work cocktail. No matter the customer, they leave satisfied. "All the food is good—I make it every day, and every day it's gone," Woldtnsea says.
Abeba offers healthy Ethiopian food choices for Jacksonians both carnivorous and vegetarian. Utensils are optional; the spicy vegetable dishes and perennial favorites like doro wat (chicken and hard-boiled eggs in a savory sauce) are scooped up with spongy injera flatbread.
However, adamant meat-and-two fans will find comfort in Abeba's newest menu additions. Woldtnsea paired up with Chef Wyatt Williams to add soul food and a southern flair to his Ethiopian recipes to create the restaurant's "Heart and Soul" buffet. Abeba boasts a full bar with American drinks and beer as well as Ethiopian beer and honey wine, both imports.
Before coming to Mississippi, the chef lived in Dallas, Texas, where a larger immigrant community and more international palates meant Ethiopian restaurants were easy to come by.
"There were no Ethiopian restaurants in Mississippi," Woldtnsea says. "People had to travel to New Orleans or Memphis, just to eat and drive back."
The transition from Texas to Mississippi wasn't very easy. "The people are friendlier but to become a successful establishment is harder," he says.
The multilingual chef was able to adjust to the southern drawl, but attracting customers was the hard part. Successfully adding a lunchtime buffet attracted businesspeople and local Ethiopians. "The Ethiopian community here in Mississippi is much smaller," Woldtnsea says. "Here, there are about 100, and in (Dallas,) Texas, there were about 20,000."
Chef Woldtnsea takes pride in being a part of his customers' dining experience. He shows guests unfamiliar with Ethiopian food and dining customs firsthand how to enjoy a meal like a local. All of Abeba's dishes are made from Woldtnsea's family recipes.
Eating Ethiopian
As with many other African and Middle Eastern cuisines, diners are meant to eat Ethiopian food using their hands, with the help of injera flatbread, which Abeba describes in their menu as "your dinnerware, flatware and part of the meal." This can be a bit off-putting for western consumers used to relying on utensils. Although silverware is available upon request at Abeba, it's more fun to do as the locals do—and easier than you think.
Ethiopians typically eat using their right hands. They tear off bits of the injera (sometimes spelled enjera) and use it to scoop or grab morsels of food to put in their mouths. The spongy flatbread soaks up the spicy sauces and allows for each bite to contain a bit of every flavor in the dish.
Another tradition during meals is a goorsha, or act of friendship. A person tears off a strip of injera, dips it in sauce or grasps a bit of food, and feeds a friend with it.
Woldtnsea feels his restaurant can reach beyond the clientele it has been serving. "It could make a difference and be a place for JSU students as well," he says. The restaurant has wireless Internet access, and Woldtnsea hopes it will become a place for students to study in the afternoons with a strong cup of Ethiopian coffee.
When Woldtnsea isn't in the kitchen, he spends time thinking of more ways to improve the restaurant, volunteering, supporting the Boys and Girls Club or staying involved with local arts. He has several pieces by local painters on display in his restaurant. Though the chef himself doesn't paint, he says, laughing, "I make art in cooking—I design food!"
Abeba (3716 Interstate 55 N., 601-713-1500, abebajxnms.wix.com) caters events and parties, and offers boxed lunches with delivery for orders larger than six.
Their active Facebook page (facebook.com/Abeba.Ethiopian.Restaurant) lets fans know about the restaurant's weekly events and specials, which include everything from happy hour—Monday through Friday, 4 p.m. to 8 p.m.—local bands, Ladies' Night on Sundays (7 p.m. to midnight) and Wednesdays (6 p.m. to 8 p.m.) and a private room for events and special occasions.
Vocab
Tej = honey wine, similar to mead
Tibs = sautéed meat or vegetables
Wat = stew
Berbere = a spicy paste made from cayenne
pepper, coriander and other spices
Fit Fit = a combination of shredded injera, onions, berbere and butter
Doro = chicken
Kik = split pea
Kibbeh = spice infused, clarified butter