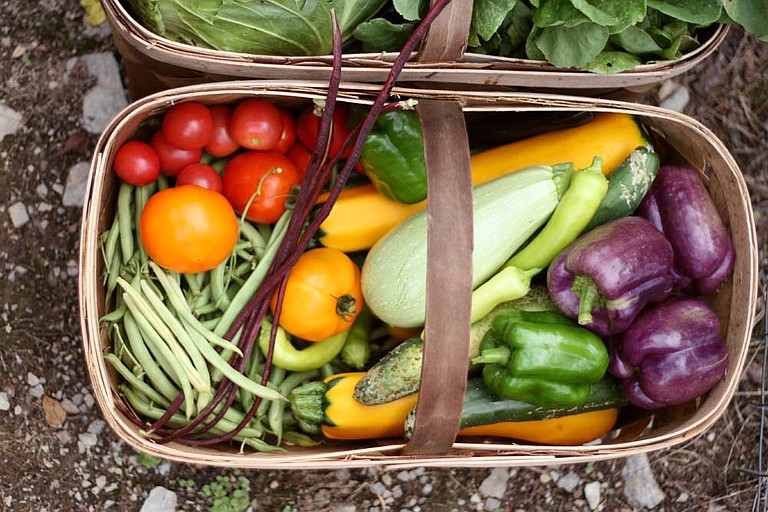 Wednesday, September 19, 2012
One area where the Jackson area bloomed in the past 10 years—literally!—is in terms of local and organic food, foodies and gardens.
"We're trying to do more with everything local," says Troy Woodson, 36, chef at High Noon Café at Rainbow Natural Grocery Cooperative in Fondren (2807 Old Canton Road, 601-366-1602). Rainbow is pushing for local people to supply organically grown food, and customers are more interested in buying locally grown food. Some of the food is really local, Woodson said, noting that honey the café uses is not just from central Mississippi bees but is produced in Fondren at Bee Tree Meadows.
Amy Breckenridge, 38, a baker who is approaching her 10th anniversary with Rainbow, has seen interest in locally grown organic food grow like a weed—as well as the number of stores selling organic food, she said.
The Fondren cooperative's membership has grown as well. In the past three years, membership has doubled, from 3,000 members to 6,000, Breckenridge said.
Perhaps picking up on that need, the Mississippi Department of Agriculture and Commerce in the past 10 years expanded the facilities for farmers who want to bring their produce to market. In 2005, MDAC phased out the old market on West Street. Now located at the Mississippi State Fairgrounds, the improved market offers an all-weather building with 18,000 square feet and 32 stalls.
In 2009, the Belhaven Market—which has sold locally grown herbs and produce since 2001—also moved to the fairgrounds. Farmers markets have cropped up elsewhere in the metro area, too, such as the Livingston Farmers Market in Madison County.
Local groups are also planting seeds for their own health and wellbeing by creating community gardens. The Tougaloo-Rainbow Community Garden Farm Project started in 2008 and is located at Tougaloo College. It provides opportunities for organic gardening and permaculture projects.
Who could have guessed 10 years ago that growing food at local schools would become a national trend and that Jackson would serve as a model?
The farm-to-school movement in Mississippi started 10 years ago, when the Mississippi Department of Education partnered with MDAC and the Department of Defense Fresh Fruit and Vegetable Program to make locally raised produce available to Mississippi schools.
In 2010, Michelle Obama visited Jackson as part of her Let's Move program for nutrition and exercise, recognizing the public schools' goals. The schools are working with FoodCorps and, since 2004, helped reach more than 20,000 Jacksonians through school garden and nutrition programs. Some, including the Wisdom Garden at Spann Elementary in Fondren, have been noted nationwide for their efforts.