Wednesday, September 12, 2012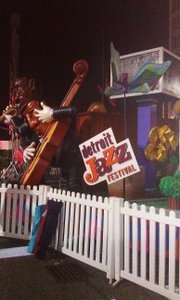 This week I bring you a tale of two cities, a tale of making plans and going with the flow, and a tale of making amazingly proper decisions.
First off, let's talk about making plans. Catherine and I had been excited since the spring, when Phish announced the second leg of their summer tour that included stops in Birmingham and Atlanta. We bought tickets immediately on the on-sale date and made plans to hit up both southeastern shows, which luckily fell on a Friday and Saturday.
About a month before the show, our plans started to change. For some reason, we decided that we had gotten too old to go to two Phish shows in a row, so we opted out of Atlanta. This was huge for us, because we had made that run, and many longer ones, many times in our life together. It was a sign of maturity that scared and impressed us at the same time.
As we got closer to the show in Birmingham, things changed even more.
My brother's wife, Natalie, who you read about in my column about their son Miles, decided to stay home with the newborn so Jesse, my brother, could come along with us to celebrate his birthday.
There aren't enough fingers and toes among Jesse, Catherine and me to count the number of times the three of us have travelled together to go to shows. This time was a little different, though, considering the newborn at home, the birthday, and the fact that it was Jesse's first time with Phish (he is a grizzled Grateful Dead guy). Jesse's motto of "everything is funny, everyone is right" carried us through the weekend peacefully.
The show itself was everything we wanted. When you catch one show a year of a band that is better understood from seeing multiple shows on a tour, you learn to just go with it and live in the moment, which is something that Phish, whether you love them or hate them, makes you do. We danced, we hugged, we laughed, we yelled, we threw down. Although our plans had changed drastically since the tour was announced, our plan to have a great time and freak out for three hours remained intact. The funk-heavy setlist didn't hurt, either.
The following weekend brought even more plans for Catherine and me. One of her cousins in Detroit was getting married on Labor Day weekend, and we had planned for months to be there. Ordered plane tickets and booked a hotel room. Every day was regimented with healthy doses of family time and, of course, the wedding and reception.
What we hadn't planned on was seeing a commercial on TV for the 33rd annual Detroit Jazz Festival, the world's largest free jazz fest. The headliners included Sonny Rollins, Chick Corea, Wynton Marsalis and Wayne Shorter. I was astounded that we didn't know about this sooner, but not surprised, because we had only planned around the wedding. I pulled up the schedule online and saw that we could catch the Wayne Shorter Quartet's Sunday night set. We made the decision to go.
Shorter's set was amazing. The 79-year-old saxophone master played a set full of classics from his albums as well as some serious improvisation that was anchored by drummer Brian Blade, who, notwithstanding the legend on stage with him, might have stolen the show. It's not often you get to see living legends and personal heroes play a set for free downtown in one of your favorite cities. Our decision to break away from the plan was well rewarded.
And there you have it: When it comes to live music, plans can be good, but just going with it can be just as great. On our trips, we visited and bought records from two of our favorite stores (Charlemagne Record Exchange in Birmingham and UHF Records in Detroit), which was part of the plan all along. Never let it be said that the Lees don't know how to fill a weekend with music, plans or not.