Tuesday, November 20, 2012
Verbatim statement from Mississippi Attorney General Jim Hood's office: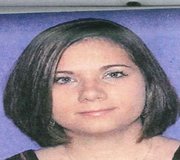 Jackson, MS-A Clinton resident faces several charges of identity theft and other crimes, announced Attorney General Jim Hood today.
Emily Kristen McLellan-Bilbo, 24, of Clinton, was arrested by investigators with the Medicaid Fraud Control Unit of the Attorney General's Office on Monday and transported to the Hinds County Detention Center.
Bilbo was indicted by a Hinds County Grand Jury on multiple counts of identity theft, felonious use of a Social Security number or identifying information to obtain goods, uttering counterfeit instruments, as well as being indicted as a habitual offender
Bilbo is alleged to have obtained credit card and other personal identifying information from customers of the business where she worked as a receptionist. She then is alleged to have used that information to set up accounts and make purchases via the internet. In all, Bilbo is alleged to have obtained more than $25,000 in goods, cash and services. There are 13 alleged victims of identity theft in this case. If convicted, Bilbo faces up to 150 years in prison and fines exceeding $140,000.
As with all cases, the defendant is presumed innocent until proven guilty beyond a reasonable doubt in a court of law.
This case was investigated by Investigator Arthur Kendrick and Auditor Gilda Holbrook of the Attorney General's Medicaid Fraud Control Unit and is being prosecuted by Special Assistant Attorney General Sue Perry.