Wednesday, November 14, 2012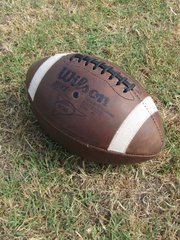 The SEC has finally been dethroned from the top of the JFP College Football Top 25 Poll. Alabama's loss to Texas A&M knocks the Tide off the top of their perch.
Louisville was also knocked from the ranks of the undefeated by Syracuse. The Cardinals join a long list of one loss team clinging to championship hopes.
Notre Dame, Kansas State and Oregon all stayed on track to finish undefeated with wins.
Rank /Team/Record/Previous Rank
1 Oregon Ducks 10-0 2
2 Kansas State Wildcats 10-0 3
3 Notre Dame Fighting Irish 10-0 4
4 Georgia Bulldogs 9-1 5
5 Alabama Crimson Tide 9-1 1
6 Florida Gators 9-1 7
7 Texas A&M Aggies 8-2 13
8 Florida State Seminoles 9-1 8
9 South Carolina Gamecocks 8-2 9
10 LSU Tigers 8-2 10
11 Stanford Cardinal 8-2 11
12 Clemson Tigers 9-1 12
13 Oklahoma Sooners 7-2 15
14 Louisville Cardinals 9-1 6
15 USC Trojans 7-3 16
16 UCLA Bruins 8-2 17
17 Nebraska Cornhuskers 8-2 20
18 Oregon State Beavers 7-2 14
19 Louisiana Tech Bulldogs 9-1 24
20 Rutgers Scarlet Knights 8-1 23
21 Boise State Broncos 8-2 21
22 Texas Longhorns 8-2 NR
23 Kent State Golden Flashes 9-1 NR
24 Texas Tech Red Raiders 7-3 NR
25 Northern Illinois Huskies 9-1 NR

Dropped out: Toledo Rockets, Mississippi State Bulldogs, Northwestern Wildcats, Ohio Bobcats