Originally published November 13, 2012 at 6:35 p.m., updated November 14, 2012 at 9:26 a.m.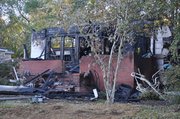 JACKSON, Miss. (AP) — Authorities say a small plane carrying three people crashed Tuesday evening into a residential neighborhood in west Jackson near Hawkins Field Airport.
The Federal Aviation Administration tells The Associated Press that the Piper PA-32 single-engine plane is registered to a company in Flowood, Miss.
Witnesses said large flames and black smoke rose about 50 feet from a burning house that was hit.
Information was not immediately available about the condition of the people aboard the plane.
A Jackson deputy fire chief told WJTV-TV that one person escaped a burning home with minor injuries. It was not immediately clear if anyone else was inside the house.
The FAA says the plane had just departed Hawkins headed for Raymond, Miss., when it crashed into a building.