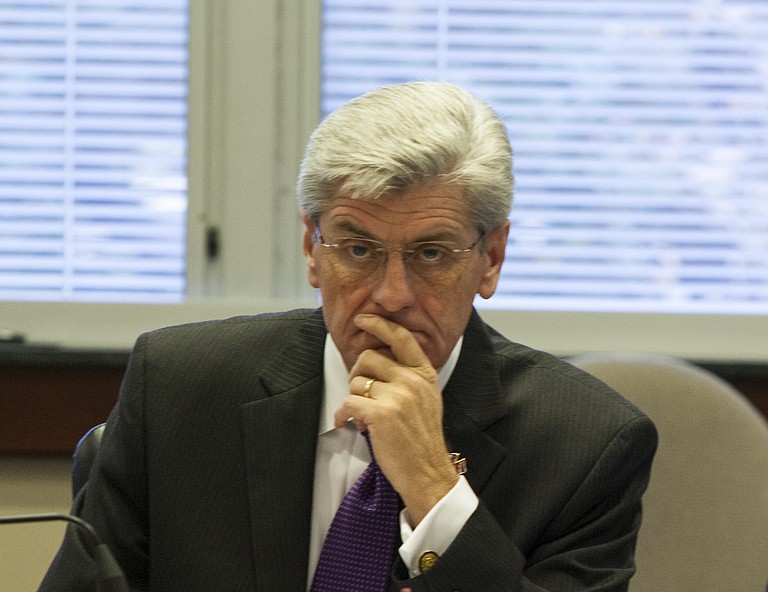 Tuesday, November 13, 2012
State economists are predicting a slow, but steady climb in the coming years, led by revitalized housing and automobile markets.
State economist Darrin Webb prefaced his predictions for growth with what sounded like a grim outlook on the current economy. He said the state is at mid-1990s-level employment numbers, and job growth has been slow. He also warned about the looming fiscal cliff, or the possibility of sweeping cuts in the federal government teamed with the end of the Bush-era tax cuts, which could expire Jan. 1, 2013, if Congress doesn't act.
Federal cuts that would be a huge hit to the state's gross domestic product. "We get about a third of our GDP from the federal expenditures," Webb said. "So that would be a big cut to us."
The state will likely finish calendar year 2012 with a GDP growth of just 0.25 percent over 2011, Webb told Gov. Phil Bryant and the Legislative Budget Committee Monday. He expects a growth in GDP of about 1.6 percent in 2013 and 2.4 percent in 2014, centered around a rising housing market and an influx of new car sales after a bad couple of years for the automotive industry.
At the meeting, Webb suggested the committee add another $118.3 million to its revenue projections for fiscal year 2013, to a total of $4.94 billion. That would require the state's general fund to grow 1 percent over the remainder of the year.
"We believe that's doable, given the current outlook for the economy," Webb said.
KiOR, Inc.
KiOR Inc. announced Nov. 8 that it began production of wood-based oil at the company's facility in Columbus, Miss., in October and expects to make its first commercial shipment by the end of the month.
The Pasadena, Texas-based company produces oil--which refineries can use to produce gasoline and diesel for automobiles--from dry wood through a process called pyrolysis. This month will mark the first time the company has sold the oil on a mass scale for commercial use.
"The facility's performance to date not only meets our expectations based on our experience at our pilot and demonstration scale facilities, but also gives me confidence that we remain on track to upgrade our oil in order to ship America's first truly sustainable cellulosic gasoline and diesel for American vehicles," KiOR President and CEO Fred Cannon stated in release.
The company has not yet reported any commercial gains. In the third quarter of 2012, KiOR reported a net loss of $27 million, or $.26 per share, and a net loss of $23 million, or $.22 per share, in the second quarter of the year.
KiOR's oil is the nation's first commercially produced, non-food-based biofuel. The company has an agreement with Hunt Refining Company, to a joint venture of Chevron, Weyerhaeuser Co. and FedEx. KiOR is still waiting on approval from the U.S. Environment Protection Agency for gasoline sales that would provide a subsidy to the company.
Production at the $220-million Columbus plant has KiOR hoping to produce 72 gallons of oil per ton of dry wood at a full-scale plant in Natchez, which KiOR hopes to build soon. Cannon stated in the release that the company hopes to up that efficiency by as much as 25 percent.
In 2010, the state helped KiOR build the plant in Columbus with a $75 million low-interest loan.
WCJCIA Holds Meeting
West Central Jackson Community Improvement Association will hold its regular monthly meeting Thursday, Nov. 15, at 6 p.m. at the Johnnie Champion Center, Shepherd Park at 1355 Hattiesburg St.
At the meeting, leaders will present "A Vision for the West Jackson Community."
WCJCIA encourages West Jackson residents to attend the meeting, and share their desires and plans for the community. The association's boundaries are Capitol Street to the north, Highway 80 to the south, Subdivision No. 2 to the west and Gallatin Street to the east.
For more information, call William Rush at 601-983-9619 or Theresa King at 601-519-2909.