Wednesday, November 7, 2012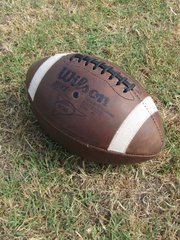 Alabama versus LSU part three was by far the best game between these team teams in the past year. The Crimson Tide had a national championship defining drive to pullout the win in Tiger Stadium on Saturday night.
Notre Dame continued to live off the luck of the Irish, Oregon finally had to play four quarters but won and Kansas State nonstop pounding of the Big- 12 rolled on. These three teams will keep fighting it out to see who will play Alabama if the Tide doesn't fall at some point.
Rank/Team/Record/Previous Rank
1 Alabama Crimson Tide 9-0 1
2 Oregon Ducks 9-0 2
3 Kansas State Wildcats 9-0 3
4 Notre Dame Fight Irish 9-0 4
5 Georgia Bulldogs 8-1 6
6 Louisville Cardinals 9-0 7
7 Florida Gators 8-1 8
8 Florida State Seminoles 8-1 9
9 South Carolina Gamecocks 7-2 10
10 LSU Tigers 7-2 5
11 Stanford Cardinal 7-2 14
12 Clemson Tigers 8-1 15
13 Texas A&M Aggies 7-2 16
14 Oregon State Beavers 7-1 18
15 Oklahoma Sooners 6-2 17
16 USC Trojans 6-3 12
17 UCLA Bruins 7-2 22
18 Toledo Rockets 8-1 19
19 Northwestern Wildcats 7-2 23
20 Nebraska Cornhuskers 7-2 24
21 Boise State Broncos 7-2 11
22 Mississippi State Bulldogs 7-2 13
23 Rutgers Scarlet Knights 7-1 21
24 Louisiana Tech Bulldogs 8-1 NR
25 Ohio Bobcats 8-1 25
Dropped out: West Virginia Mountaineers