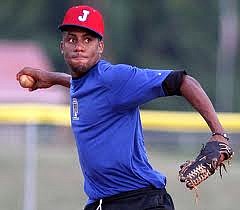 Murrah High School might not be known for its baseball program, but the Mustangs have a pitcher who is grabbing attention from media and scouts. Senior right-handed pitcher Zach Bird was named one of the top 20 players in Mississippi by ESPN. Perfectgame.org named Bird an Honorable Mention Underclassman High School All-American as a junior.
Bird is considered one of the best pitchers in the state by nearly every scouting service in the country. According to his scouting profile on perfectgame.org, Bird has a lively fastball that constantly hits the upper 80 mph range and has been clocked as fast as 90 mph. At 6 feet 4 inches and 188 pounds, Bird is a tall pitcher with a solid frame.
Bird has something else in high demand: pinpoint control and the ability to throw a curveball for strikes. Last season, Bird had 58 strikeouts with a 3.05 earned-run average and a 3-3 record. This season, Bird has 31 strikeouts and a 4.3 earned-run average with a 2-2 record.
On days Bird is not pitching, he is a shortstop in the field and has a .323 batting average with two home runs and 1l runs batted in.
What might be more impressive than his pitching is that Bird is an excellent student. His grade-point average is better than 4.0, and he has served on student council. He was also named to the National Honor Society. The standout pitcher has already committed to the University of Southern Mississippi for the 2013 season.
Southern Miss might have had the inside track at landing Bird. His father, Eugene Bird, lettered in football at USM from 1971 to 1973. The New York Jets drafted Eugene Bird in the 11th round with the 266th pick of the 1974 draft.
Zach Bird has not yet hit the ceiling of this talent and will only continue to get better. He has the pedigree, the intelligence and the skills to go as far as he wants as a student and an athlete.
Murrah currently has an overall record 4-3 record. The Mustangs' next game is March 23 against Northwest Rankin.