Wednesday, March 21, 2012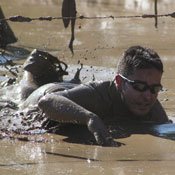 Most days, Ben Lott runs around the perimeter of his apartment complex and into nearby neighborhoods working on getting into shape. Ever since his friend Scott Livingston encouraged him to enter the Warrior Dash in mid-February, he has been training.
"At first, I was in bad shape, and it took me a while to start to get into shape," Lott says. "I would start running and have to stop and start walking, but now I am running anywhere between a half mile to a mile every time I go running."
"It helps I got better running shoes as well," Lott adds. He also hopes working out with Tony Horton's "P90X" DVD will help him, too.
Lott, 25, is an engineer who is originally from Wiggins, but was living in Richland when he started working for Siemens USA in Jackson. Livingston and a group of co-workers decided to run in the Warrior Dash in April and invited several co-workers to join.
Lisa Parker, Lott's girlfriend, is also running in the event. Lott says that she is in much better shape than he is. She ran a half-marathon a couple of weeks ago.
On April 21, Lott and other modern-day "warriors" will descend on Jackson to compete in the first Warrior Dash held in Mississippi. The Warrior Dash is a race slightly longer than a 5K—3.40 miles—over natural terrain with 12 grueling obstacles.
Starting at 8 a.m. the first wave of contestants will begin the race at Mississippi Off-road Adventures (118 Elton Road, 601-927-7957), and waves will continue in 30-minute intervals until all the contestants have run.
The Warrior Dash began in 2009 with the first race run in Joliet, Ill., national Media Relations Director Alex Yount said. That first race sold out at 2,000 participants.
Yount said the event made big strides in 2010 by adding 10 races in as many different U.S. states with 120,000 participants. Worldwide, 2011 saw 32 events with 650,000 participants. 2012 should see a million warriors.
Asked to describe the Warrior Dash, Yount said, "It will be the craziest day of your freaking life."
On paper, the Warrior Dash looks like it will live up to his description. The obstacles look like something you would see on an episode of "Survivor," but they're squeezed into a one-day race instead of 39 days.
Every event features different obstacles, but two are standard at every Warrior Dash: The Warrior Roast, where participants leap over fire, is the No. 12 on the Jackson course, and Muddy Mayhem, which consists of crawling under barbed wire through a mud pit, is No. 11. Other events include scaling walls and slogging through water, in addition to running between the obstacles.
Every obstacle has a medical station with trained staff to assist participants who might injure themselves. Yount said safety is the No. 1 priority, but most injuries sustained during the Warrior Dash are typical of those found in a marathon, such as rolled or sprained ankles. The course includes two water stations, and after finishing the race, contestants get bananas and more water.
Mississippians were vocal about bringing the event to Jackson. "We received emails, calls, Facebook posts and tweets asking us to bring the Dash to Jackson," Yount said. "All the requests made us feel like Jackson would be a prefect site to add a Warrior Dash event."
Just about anyone can compete in a Warrior Dash, as long as they are at least 14 years old. Yount has seen competitors in their 80s and, he says, contestants don't have to be in world class shape. He is proud that the Warrior Dash has a 50-50 split in male and female participants.
Every warrior receives a fuzzy warrior helmet that looks like a Viking helmet with horns coming out of each side, a T-shirt, a warrior medal and, if the contestant is of proper legal age, one free beer. The top three overall finishers for male and female contestants and the top three finishers in each age division, male and female, also get an award in the form of a steel Warrior helmet.
Crazy costumes are not required but are encouraged at the Warrior Dash. The best costume will also receive a steel Warrior helmet. Another award will be given to the participant with the best beard. Spectators are encouraged to come out and root for the warriors.
Lott says he's not looking to break any course records, but says something good has come out of signing up for the event, and that's a healthy new habit. "I think I will keep training and running" he says. "I have found out it makes me happier and gives me more energy. Maybe not train as intense, but do enough to stay in shape."
For more information, visit http://www.warriordash.com. Go to the locations page for details on the Jackson course. Registration is $70, and participants can sign up to help raise money for St. Jude's Children's Research Hospital in Memphis, Tenn. On the day of the race, parking (for spectators and contestants) is $10. Outside food and drinks are not allowed. Spots are limited and available until registration closes April 9, or until all the spots fill up.
Follow Bryan Flynn at http://www.jfpsports.com, Facebook and @jfpsports.
More like this story