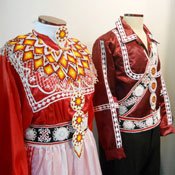 The vibrancy of the Mississippi Choctaw's heritage is clearly expressed through the colorful, handmade Choctaw dresses with beautiful beadwork and full skirts trimmed with ruffles and hand-sewn appliques, handmade baskets and handmade musical instruments—all on display at the Mississippi Craft Center this month. Through Saturday, June 30, the center is presenting "Choctaw Expressions: Choctaw Cultural Arts and Historical Exhibit."
Visitors to the exhibit can also learn about Choctaw Indian history through a timeline display that highlights important events, such as the Mississippi Choctaws who refused to leave their lands when former President Andrew Jackson ordered them to in 1830. On opening day of the exhibit, guests were able to participate in interactive cultural and educational activities such as beading, corn husk doll making, pottery making, storytelling, Choctaw social dancing and rabbit stick throwing—an important way of hunting for early Choctaw hunters.
Choctaw Expressions is featured daily at the Mississippi Craft Center (950 Rice Road, Ridgeland) from 9 a.m. to 5 p.m. The exhibit is free. For more information about "Choctaw Expressions" call the Choctaw Museum at 601-650-1685, the Mississippi Craft Center at 601-856-7546 or the Mississippi Band of Choctaw Indians Office of Public Information at 601-663-7532.