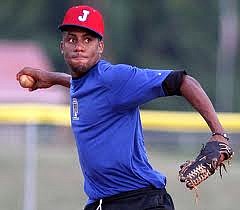 The Los Angeles Dodgers selected Zachary Bird, a recent Murrah High School graduate, with the 296th pick in the ninth round of the Major League Baseball Draft.
Bird finished his final season at Murrah with a 3.14 ERA and a 5-4 record. He had 78 strikeouts in 48 innings of work. Bird also batted with a .411 average and helped lead the Mustangs back to the playoffs for the first time since 2006. Last weekend, Bird played in the Crossroads Diamond Club All-Star game at Trustmark Park in Pearl.
To put Bird's selection into historical context, baseballreference.com shows Bird is the first player drafted from a Jackson Public School since 2003, when the Florida Marlins drafted Todd Johnson of Provine High School in the 27th round with the 803rd pick. The last player selected from Murrah was Clinton Johnson in the 30th round with the 888th pick; the Kansas City Royals selected him.
Bird is the highest player from a JPS school drafted in the MLB draft since Tim Hodge of Callaway in the second round with the 55th pick in 1988.
Bird has signed a scholarship offer from the University of Southern Mississippi. Even though he was drafted, he can still play with the Golden Eagles next season if he chooses to play for USM.
Major League Baseball's draft is different from most professional sports drafts. Unlike the NFL draft, the MLB draft takes place during the season instead of after the season ends. Starting on Monday, June 4, and finishing on Wednesday, June 6, the MLB draft goes for 40 rounds, and teams select more than 1,000 players. Players from high school who are drafted can enroll in college and play college baseball.