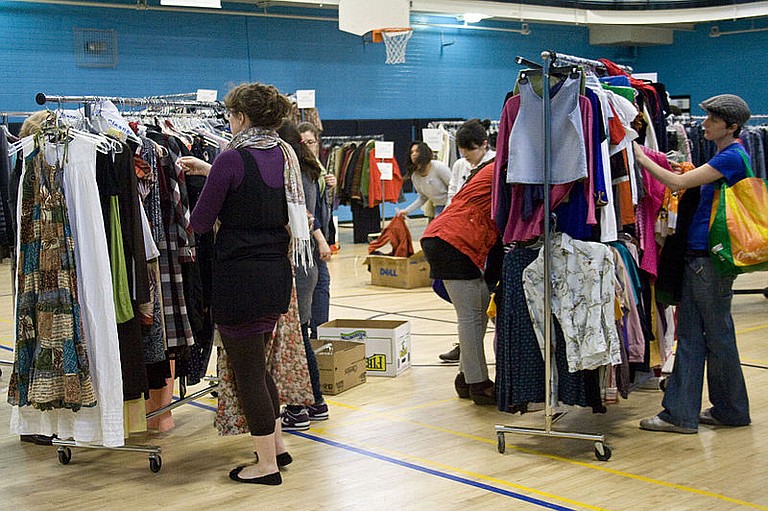 Document
JACKSON — If you're planning to buy clothes or shoes, you can save a few dollars this weekend.
The state Department of Revenue is holding a sales-tax holiday July 27-28. During the holiday, the state will not collect any sales tax on eligible items of clothing and footwear.
Eligible items must have a sales price of under $100. Customers can buy multiple items for a tax-free total of more than $100, but each item must cost under $100 individually to qualify for the tax exemption.
The Department of Revenue released a statement that defines clothing as: "any article of apparel designed to be worn on the human body including pants, shirts and blouses, dresses, coats, jackets, belts, hats, undergarments and multiple piece garments sold as a set."
It defines footwear as: "any article of apparel for human feet except for skis, swim fins, roller blades, skates and any similar items."
Accessories, such as jewelry, handbags, luggage, wallets, watches and backpacks are not tax exempt.
Ron Aldridge, state director of the National Federation of Independent Business, said in a press release that the holiday will be a big help to both consumers and small businesses.
"The sales tax holiday is like the day after Thanksgiving," Aldridge said. "It gets people fired up and in the mood to shop, and that's exactly what our economy needs right now, especially with the additional savings to individuals and families for needed clothing and footwear."
The state Legislature passed a law creating the holiday in 2009. The state chapter of the NFIB helped push the bill through the House and Senate.
"The more we can increase consumer spending at our small businesses, the more jobs we save, and the faster our economy will recover," Aldridge said.
Duvall Decker Wins Three AIA Awards
Jackson architectural firm Duvall Decker Architects took home three design awards from the state chapter of American Institute of Architects Annual Convention in Sandestin, Fla.
A jury of out-of-state architects awarded two of the prizes. All state AIA members voted on the other, the Sambo Mockbee Award.
Roy and Anne Marie Decker are the lead architects at the firm. Brett Cupples is the other licensed architect on the Duvall Decker Architects staff.
"We're grateful and humbled by the recognition of our piers," Roy Decker said during a phone interview. "These awards are evaluated and judged by very skilled professionals from out of state. They are a sign of recognition that the design work is valuable and shows leadership within the state for its quality."
The recently completed Jobie L. Martin Classroom Building at the Jackson campus of Hinds Community College received the AIA Mississippi Honor Award and the Sambo Mockbee Membership Award. Cupples, project architect for the building, designed the 18,800 square-foot laboratory and classroom building to be economical, durable and energy-efficient. It includes six standard classrooms, biology and chemistry laboratories, faculty offices and study rooms for students.
"It is an extremely energy-efficient building," Decker said. "It's designed with both passive and active sustainable systems to avoid heat gain and lower the air conditioning load and, hence, lower the electric use in the building. It's got light-harvesting systems in it that allow the electric lights to turn off as the natural light comes into the classrooms."
Duvall Decker Architects received the other award for the Oak Ridge House, a private residence in Jackson.
Duvall Decker Architects has received numerous local, regional and national awards for design since it began working in Jackson in 1997. The firm has completed multiple educational facilities, public buildings and affordable housing complexes. Current commissions include academic facilities for Hinds Community College and Alcorn State University, a library renovation for Mississippi Valley State University and housing and urban development in Jackson.
New Jobs Coming to Water Valley
BorgWarner, a manufacturer of automotive technologies, announced an expansion that will bring 50 new jobs to its plant in Water Valley.
The announcement marked the plant's third expansion in two years. It employs 485 workers now, and will begin making a new ECO-Launch transmission system for vehicles, which BorgWarner says will improve vehicles' fuel efficiency.
"BorgWarner has expanded its Mississippi operations a number of times in recent years, creating a significant number of new jobs for state residents," Gov. Phil Bryant said in a statement. "I am proud this global automotive supplier has looked to its Water Valley facility to manufacture this innovative new product, and I thank company officials for their continued investment in Mississippi."