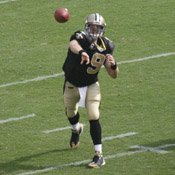 Aug. 5 can't seem to get here fast enough for football fans.
The 2012 Pro Football Hall of Fame game between the Arizona Cardinals and the New Orleans Saints will hopefully give us a respite to this summer's contract disputes, scandals and arrests. At least the Saints' soap opera is over.
Drew Brees has finally signed a contract, and speculation over whether he will or won't show up for training camp is over. "As the Saints Turn" now will just focus on the player's court dates in "Bounty Gate."
Brees is getting paid big time with a five-year contract worth $100 million. Of that contract, Brees is guaranteed $60 million, which is the biggest guarantee in NFL history. The best part for the Saints quarterback is that even though he just signed a monster contract, he will get a pass for this season. Because the NFL suspended Sean Peyton, fans and sports pundits will forgive Brees and the Saints if they don't have a great season or get bounced early in the playoffs. Depending on how the bounty scandal plays out, Brees could have a pass for the first two years of his contract.
It is rare that any player gets off easy after getting a big contract. Normally, fans and the media pick apart everything those players do. But this is not a normal case, and Brees will get room to breathe that other newly high-paid athletes don't get most of the time (see Michael Vick, Mark Sanchez and Albert Haynesworth for example).
Brees, at 33 years old, might get a pass for the next year or two, but the pressure will triple in year three. New Orleans' championship window might be getting very close to closing. Free agents like guard Carl Nicks will be leaving, Brees will be getting older, and the NFC is loaded with good teams like the Green Bay Packers and New York Giants winning the last two Super Bowls.
While a Super Bowl was the perfect ending to the Saints' dream 2009 season, is one Super Bowl win enough? And will Brees' legacy take a hit if he never wins the Saints' first road playoff game?
We have plenty of time to ask these questions, but when you're an athlete getting paid big bucks, they are the kind of questions that will follow you around. The questions will get more play in the final two years of Brees' contract as he enters the twilight of his career.
It is great Brees got paid, but sports are not about what you have done in the past. It is all about what you are doing right now.
In five years, we will have a bit more perspective on Brees' big New Orleans Saints contract. That's when we'll know if Brees can add more to his resume than just gaudy stats.