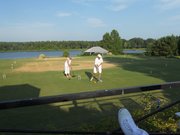 I've alluded before in this column to my general lack of athleticism. I like working out, but when it comes to team sports, I'm much better at being a cheerleader than a participant. Joining my team for Wednesday trivia night at Fatsumo Sushi (3100 N. State St., 769-216-3574) is about as competitive as I get on a regular basis.
That being said, when an activity combines social interaction with a team-based competition requiring minimal exertion, I'm all for it. One such activity I've come to really appreciate over the past couple of years is croquet.
I know: Playing croquet sounds like an invitation to go back in time. Just saying the word "croquet" conjures up images of lush green lawns, preppy clothes and gin-based drinks. It's what I refer to as a Very Gatsby Endeavor. That's not entirely an inaccurate description: At the Highlands Mallet Club (396 Highland Meadow Road, Flora, [email protected]), where the croquet green overlooks a lake, the rules dictate that players wear all white (actually, you're allowed 10 percent color). Adult beverages are, of course, essential.
On a recent Sunday, my plus-one and I headed out to the Highlands to join Mike McRee, Susan Frazier and their friends for the afternoon to play. Upon our arrival, one of the other players immediately noted that my shoes constituted the aforementioned non-white wardrobe allowance, and Mike pointed out that I would help aerate the lawn, as they were not flat, either. (I only wear athletic shoes at the gym, and I don't own flats; I did the best I could.)
After some practice shots to warm up, we played a game of golf, a variation of croquet, occasionally pausing to strike a mallet-over-the-shoulder pose and feel like we were in a Ralph Lauren ad. In my experience, the game involves a little skill, a little luck and a lot of fun. It's a great way to spend an afternoon in the country while not feeling completely lazy. Some of the advanced players opted for more complex variations of the game, like six wicket. In the golf version, you just try to be first to hit the ball through the wicket, and that's challenge enough for me.
On the way back into the city, we stopped for nosh and a drink at Sal & Mookie's New York Pizza & Ice Cream Joint in Fondren (565 Taylor St., 601-368-1919, http://www.salandmookies.com). The matching all-white outfits got a few looks, but it turns out that Kim Kardashian and Kanye West donned the same look that very night at the BET awards, so that made me feel better.
One of the benefits of a minimally athletic team activity: Over pasta and drinks, the conversation trended not toward post-game analysis, but rather, to Mississippi's new craft-beer law. It was much better than rehashing who could've made a better play at one point or another.
If you're looking for a team activity other than croquet that involves minimal physical exertion, lots of socializing and beer, kickball can provide a great opportunity. Thanks to some enterprising Jacksonians, there's a new kickball league in town, and the teams are having a great time.
The league's name—Jackson Adult Kickball and Social Services (JAKASS)—indicates the prevailing attitude of its participants, and teams quickly adopted the spirit, giving themselves names like Booze on First, Kickelob Ultra and Country Fried Kickin'.
I hear they not only design creative team logos and T-shirts, but also koozies—because it's a game that encourages having a good time by way of beer.
With 16 people per team maximum and games starting in mid-July, there's probably a team out there for you if you're interested. Check the league's Facebook page to find more information and join the fun.
For my part, I'll stick with croquet, but I definitely plan to assume my cheerleader role and tailgate for some kickball games.
See you at the field!