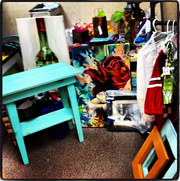 As of today, the following community members and businesses have donated to the JFP Chick Ball, which is on July 28 at Hal & Mal's. This year's event, the 8th, is raising money to fund a new rape-crisis center at the Center for Violence Prevention in Pearl. (Click here to donate via Paypal.)
We are still taking donations and will photograph as many as possible for the big auction guide in next week's Chick Issue, but the sooner you get it in, the more likely it'll make the guide! Email [email protected] or call 601.362.6121 ext. 16 with questions or if you need to arrange pick up. You can also drop at the JFP office 9-6 Monday through Friday or arrange a different time. Thanks to you all for making a difference!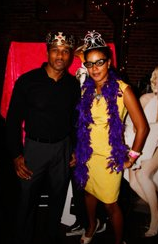 The 8th Annual JFP Chick Ball has girl bands, art, magic, tango, men of character, dancing divas and so much more! Oh, and there's a photo booth
Silent Auction Items:
Nola Gibson - painted plate, "The Floating World," framed painting
Caroline Debeukelar - Ornament, 2 photo albums, stationary pack, cake stand
Friends and Company - $40 gift certificate
Palm Beach Tan - $84.95 gift certificate
Fondren Nails - $25 gift certificates
Royce Boyer - $99 gift certificate
Genevieve Legacy - 3 Necklaces
Glo-Anthony Ritter - 2 Framed Paintings - Flowers
Tracie Wade - 1 Dancing Workshop
Glamour Salon - $40 Gift Certificate
Fat Cat Ceramics - Ceramic Frog Luminary
Nola Gibson - Film Festival Painting
Nola Gibson - Portraits
Nola Gibson - Patchwork
Katie Katzenmeyer - Metal Work Lamp
Kismar Computer Services- $100 computer repair gift certificate
Lingofest Language Center - 3 Spanish classes
Susanne and Brian Atkins - Firehouse Subs - 25 Free Subs and Drinks
Koinonia - 3 $10 gift cards
Red Square - Joe Williams - Pair of turquoise earrings
Red Square - Joe Williams - White, fringed shirt. With a letter for exchanges if needed.
Elaine Peterson - Feathermore - Feather with painted-on cat and chicks
Pepper Lyn's Gifts and More - Gift basket of Avon products
Massage Envy - 1 hour massage
William Winter Institute - 2 books, 4 posters, 1 hat, 2 shirts
Jacob Fuller - Signed Deuce McAllister Ole Miss Football Jersey
Village Beads - 2 Gift Certificates for Beading Classes, 4 Crystal Cross Bracelets, 24 sets of Swarvoski Crystal Earrings
Shoe Bar - 2 $50 gift certificates
Royal Bleau Boutique - $50 gift certificate
Circa - 1 Sculpture, 2 bottles of lotion, 2 bottles of cologne
Brent's Drugs - 1 $20 Gift Certificate, 1 T Shirt
Fondren Guitars - 2 Guitar Lessons
Janice Cameron - One large painting
Sneaky Beans - One Gift Certificate, mug, and t shirt
Yogn Frut - 2 Gift Certificates
Two Sisters - 2 Gift Certificates and 2 t shirts
Pink Bombshell - One pair of earrings
Kira Cummings - One rise painting and one powerless wood burning
Kasey McKay - Bug and Bell - One little girl's dress - Green
Victoria Walker-Social Agenda - 1 Gift card for a manicure
Kim Dismuke - Social Agenda - One gift card for a haircut
Lauren Burns-Social Agenda - One gift card for a haircut
Howard Jones - Universal Women Night Dancing on the Beach Painting
Tony Parkinson - Set of 3 Cooking Books - Tapas, Italian Seafood, Italian Desserts
Mitchell Davis - Flower Photograph - Yellow Blooms
Phylliis - On Location TV - Set of 3 Fruit Handbags Photos- Raspberries, Blueberries, and Cheese, Not the Cheese handbag
Theresa Hebler - Set of 4 Medically related handmade cards
Latasha Willis - Gilded Lily Painting
Pure Barre - $100 Gift Card
Paul Buford - Prints of: Ranbow Barn, 50's Fast Food
Deveon Sudduth/Deveon Sudduth Photography - Mississippi Hummingbird Picture and Frame
Savannah Perry - Quirky Finch - Free Bird Little Girl's Dress Size 2/3
Mi Cherie Treasures - $100 Shopping Spree for Ebay Store
Marika Cackett - Painting by Kathy Millingham
Dana and Jonathan Larking - IMC Inc. - Seashells in frame
Roz Roy - Heavenly Designs by Roz - $50 gift card, 2 art pieces
Joanna Puddister - Good Samaritan Center - Bags with gift cards and shirts
Jeff Monk - Framed Woodpecker Photo
Wanda Monk - Hydrangeas on Canvas, small chickball watercolor
Adrin Gordon - Gordon's Urban Wear - 2 Polo Caps
P.R. Henson - PHenson Studio - "Me" Limited Edition Print
Emma Wynters - MS Madness Music Management - Gift certificates for 2 evenings of performances, 2 CD's
William Wallace Salon - Gift certificate for $100
Katie Farrar - Facing a New Year 24x36 acrylic on canvas painting
Mangia Bene - $50 gift Card
Joe T's Wine and Spirits - 1 bottle of Buffalo Trace Bourbon
Ashton Corley - Libby Story - 1 Black, grey, pink purse
Kate McNeely - Social Agenda - Certificates for full makeover and shampoo cut and style
Fondren Cellars - $25 Gift Card
Chane - Swell O Phonic - 3 T-Shirts
Karen - Fair Trade Green - One "Growing Wings" Art Piece
Trish - Custom Optical - One pair of gorgeous Ralph Lauren Sunglasses
Demond Hunt - Southern Styles LLC - One pair of size 42 mens polo shorts
Michele Campbell- 4 Painted wood blocks
The Hair Boutique Salon - 4 Purses - Green, Black, Orange, Gold + 1 Bracelet
Butterfly Yoga - Scotta Brady - 1 Month unlimited, 6 classes, 1 book, 1 cd
Laurilyn Fortner - One oil painting of woman's face and chick
Noel Didla - Indian Silk Letter Holder
David Murray - Flowood Flea Market - One distressed table and 3 picture frames
Josh Hailey Studio - One canvassed photograph print
Donna Ladd - Set of writing/creativity classes
Li Vemulakonda - 2 massage gift certificates
Shannon Valentine - Art: Crow Man Blues
Lisette's Photography & Gallery - Art piece
Pam Johnson - Bags, shirt, tin bucket
Nagrom Accessories - Jeanette McGrew - earrings and a necklace
The Jackson Zoo - A family zoo pass and a stuffed lion
Nandy's Candy - A gift basket of treats
Another Broken Egg - 2 t-shirts and a mug
Arco Avenue - 3 nail polishes, 1 scarf
Attitude Not Included Boutique - zebra print dress
S. Mack Tees and Butterfly Faces Makeup Artistry - T-Shirts and gift certificates
Hemline Ridgeland - bath set with bubble bath, candle and matches
Material Girls - Two purses
Laura Tedder - One painting by Lynn Green Root
Artful Hours Painting Lounge - One art class
Cakes by Iris - One $250 gift certificate for wedding cake
Photography by Christina - One b&w framed picture
Kincade's Fine Clothing - One gift certificate for $25
Tranquility - $15 Gift certificate
4 Paws Grooming Salon - Set of gift certificates
James Anderson of Scarvin' Artists - Purple and white hand-nitted scarf
Silly Billy's - Accessories
William Jerry Stroud - Painting
Kristen McCoy, Sara J. Mathis and Roxane Rodgers of Luxe Salon - Gift certificates
B-Shop - Gift certificate
Kristen Ley of Thimblepress - 5 art pieces
Capital City Beverages - Umbrella, cooler, chair and golf bag.
Chausey Wade - 2 art pieces
Gaylen Regan - 3 art pieces
The Magnolia Roller Vixens - 4 tickets for August 4th
Sledge's Wrecker Services - Gift certificate
Jackson Posture Center - Gift certificates
Ardenland - 2 tickets to all 2012 duling hall ardenland shows
Grabuone Outfitters - DVD's, t-shirt and hats
Briarwood Wine - Bottle of Four Roses bourbon
Mississippi Museum of Art - Book, t-shirt and $50 gift certificate
Men of Character Live Auction:
Terry Cooper, Absolute Fitness: 8 personal training sessions
Mitchell Early, sommelier, Bravo! - wine and cheese pairing
Jesse Houston, Chef, Parlor Market: Private dinner for six
Israel Martinez, LingoFest: 4 private 2 hour Spanish lessons for one or two people at Lingofest Language Center
Terry Sullivan, liveRIGHTnow: package includes yoga, training, tabata
NIck Wallace, Chef, King Edward: Dinner prep for 10 in your home
Sujan Ghimire, Salsa Mississippi: 4 hour-long private classes
Money donations:
Adelia Bush
Natalie Maynor
Kira Cummings
Nola Gibson
Dorothy Triplett
LaRue Owen
Delta Sigma Theta Sorority
Inmotion Consulting and Coaching - Deirdre Danahar
Kimberly Hilliard
Diana Jackson
Planned Parenthood
Davetta and Jonathan Lee
Dorsey Carson
Mid-South Graduate Chapter of Swing Phi Swing Social Fellowship - Yolanda Walker
Russell and Nancy Morrison
Tom Head
Noel Didla
Nathan and Karla Elmore
James Anderson
John McGowan
Confirmed Food Donors:
Fratesi's
Country Fisherman
Noel Didla
Hickory Pit
Beagle Bagel
Pizza Shack
Aladdin
Underground 119
Congress Street Grill

Jaco Tacos
Anjou
Fatsumo
Sugar Magnolia Bakery
Penquin
If your donation is missing or you see an error, please write [email protected]
Thank you to all donors! We will continue updating this list between now and Chick Ball on July 28.