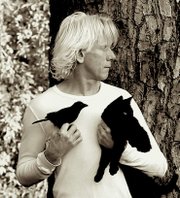 Wes Montgomery, John Coltrane and especially power guitarist Jimi Hendrix influence musician and artist Randy Everett.
"I'm surprised they didn't call me to play the guitar for the movie (about Hendrix's life)," Everett says jokingly. "It's not done (filming) yet, so maybe they will."
This 60-year-old kid, as he refers to himself, has been a musician for more than 20 years, playing contemporary, progressive jazz, and recently rekindled his passion for art. This month he will combine the two, playing a show and displaying his art at the Fondren Art Gallery.
Everett's love for music began when he started taking piano lessons at 9 years old. He began composing simple songs and eventually found his true love—the guitar.
"When I was about 14, my cousin got a guitar for Christmas. I went to visit, and he let me hold it. I started playing melodies on it almost immediately. It felt so natural to me," Everett says. "Time went by, I saved my money up and bought a guitar."
After a short time playing the guitar, Everett formed a band and recorded three original songs in a Vicksburg studio as a teenager. "Of course, these weren't spectacular songs," Everett says. "We were just kids," he says with a laugh, "we didn't know what we were doing."
Everett is now a recording engineer and producer at his own Terminal Studios, located in Ridgeland. Recording artists such as the Williams Brothers and Melvin Williams from several different well-known labels have used the studio, named for a nearby airport. Various projects recorded there, including the soundtrack to "O Brother, Where Art Thou," have earned five Grammys and eight Grammy nominations.
But Everett's work doesn't end with music. He recently picked up a paintbrush for the first time in 20 years and began painting again. Using the brightest colors he can find, Everett's painting style of abstract realism is indicative of his fun, witty personality. Instead of creating concrete pictures, Everett says that he paints concepts in an abstract way.
A photograph he took of birds flying across the beach on the Gulf Coast inspired his most recent painting. He recalls observing them fly away and land over and over again while he took in the spectacular view of them flying across the horizon.
His most recent musical project is inspired by his dreams. The album, "My Flying Dream," is making waves in Europe, and the title track from the album gives listeners insight as to how the album name came about.
"My flying dreams aren't scary at all. In a dream anything can happen. When stuff happens you don't know why. ... You just know that there aren't any restrictions to your dreams and their possibilities," he explains.
Randy Everett will perform a concert at the Fondren Art Gallery (3030 N. State St., 601-981-9222) on July 5 from 5 to 8 p.m. An exhibit of his artwork is up at the gallery and runs through the end of July. For more information, call the art gallery, visit randyeverett.net or become a fan of his Facebook page.