Originally published July 4, 2012 at noon, updated July 5, 2012 at 6 a.m.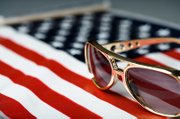 Fondren After 5 is going patriotic. On Thursday, July 5, from 5 to 8 p.m. the Fondren Association of Businesses hosts the Fondren Freedom Fest, an Independence Day festival featuring entertainment for children and parents on the great lawn at Duling Green.
David Waugh, president of the FAB, says the event started three years ago. "Back several years ago, we had monthly themes for Fondren After 5, and then (later) we had two big events—Fondren Unwrapped in the spring and Arts, Eats and Beats in the fall—but nothing in the summer," Waugh says. "We (wanted) an event that was geared toward families and children that would be different from the regular Fondren After 5, which tends to be more about shopping."
The free event includes a Children's Parade in the historic Fondren business district. Red, white and blue-clad participants on decorated wagons, bikes, trikes and strollers can follow the "Pied Piper" in the parade around 6:30 p.m. Jazz up your strollers, kids, and even your pets and you could win a prize for best decorated ride. Entry to the event and carnival games are free, and all proceeds from food and other concessions will be donated to the Folds of Honor Foundation, which provides support to the families of soldiers who have been killed or disabled in service to our country.
Aside from the carnival games and parade, enjoy food, popcorn, snow cones, hot dogs, cotton candy, a dunking booth, music, space jumps and more. As usual, participating stores will stay open late, and plenty of delicious food and music will be available at every turn.
Fondren Freedom Fest is July 5, 5 to 8 p.m. at Duling Green (Duling Ave. And Old Canton Road). The event is free. Call 601-981-9606 for more information.