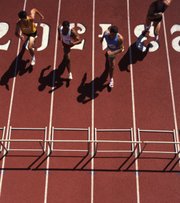 Trell Kimmons, the Jackson Free Press' Person of the Day for July 2, is not the only Mississippian heading to London for track and field competitions. Three others with ties to our state will join Kimmons at the 2012 Summer Olympic games in London.
Former Jackson State University star Michael Tinsley came in first place at the U.S. Track and Field Trials in Eugene, Ore., in the men's 400-meter hurdles with a time of 48.33 seconds to earn a spot. He is the first JSU track athlete to win a NCAA Division I title. In the 2006 NCAA Outdoor Track and Field Championships, Tinsley won the 400-meter hurdles in 48.25 seconds. This is his first time to make the U.S. Olympic team.
Ridgeland High School athlete Bianca Knight made the Olympic Team as a relay runner after finishing fifth in the 100 meters during the trials. The women's 100-meter event has been in sports news because of a third-place tie. Knight finished behind Allyson Felix and Jeneba Tarmoh (who both finished at 11.07 seconds) with a time of 11.14 seconds.
By the time she graduated from high school in 2007, Knight was one of the most celebrated track athletes in Mississippi history. She held 15 individual state titles in three events (100 meters, 200 meters and 400 meters) with the state record in the 100 meters and 200 meters.
Adding titles for relays, and Knight holds 23 state titles and was the first Mississippian ever named Gatorade National Girls Track & Field Athlete of the Year in 2007. Knight is also a first time Olympian.
Brittney Reese joins Knight on the U.S. Women's Olympic team. At this year's trials, Reese won the Women's Long Jump with a winning leap of 23 feet, 5-1/2 inches.
Reese graduated in 2004 from Gulfport High School, then attended Gulf Coast Community College before finishing her college career at the University of Mississippi. The Gulfport native has won four straight world indoor and outdoor championships as a professional. Reese was on the 2008 U.S. Olympic team as a long jump champion and competed in the Beijing games. She ended up in fifth place with a final jump of 22 feet, 2 inches.
JFP readers: Do you know of other Olympic athletes this year with Mississippi ties? I'm looking forward to highlighting them in the JFP and rooting for them during the London games. Send me an email to [email protected], send a tweet to @jfpsports.com, or add your comments to this story on www.jfp.ms.