Wednesday, January 4, 2012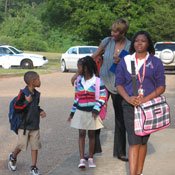 As the Mississippi Legislature writes the 2013 budget, funding for public schools is likely to be up for debate. Specifically, legislators will consider how much funding to put toward the Mississippi Adequate Education Program, which makes up the bulk of public K-12 funding.
Although law requires the Legislature to fund the program, it rarely does. The 2012 budget left MAEP underfunded by $237 million, and this season's budget discussions aren't likely to reverse course and provide full funding.
The Department of Education estimated that funding MAEP—the formula for adequate funding for public schools—will cost more than $2.2 billion. Gov. Haley Barbour's budget recommendations allot just under $2 billion for the program, a 2 percent cut from fiscal year 2012.
The Joint Legislative Budget Committee, chaired by governor-elect Phil Bryant, has recommended level funding for MAEP—no cuts, but nothing to get funding up to "adequate" levels either.
Barbour's budget recommendations also figured in a 3 percent reduction in funding for the Mississippi Institutions of Higher Learning, which oversees the state's public colleges and universities, and a 2 percent cut to funding for community colleges. The Legislative Budget Committee recommended cutting the IHL budget by just under 2 percent.
As he did in 2009, Barbour called for consolidating the state's three historically black universities and merging the Mississippi University for Women with Mississippi State University. When Barbour proposed the mergers last time, students, alumni and legislators criticized the plan, which was ultimately dropped.
What Is MAEP?
The Mississippi Adequate Education Program, or MAEP, is a formula the state uses to figure out how much money each school district needs. The Legislature passed the program in 1994; it is intended to ensure that poorer school districts with fewer local resources—but often more needy students—get enough money to operate well. The Legislature has only fully met MAEP's budget requirements three times in the last decade.