Wednesday, February 29, 2012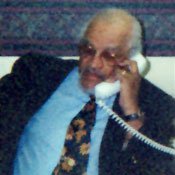 Owen Brooks and Phil Reed are builders. In addition to the voter registration and education drives he led as director of the Delta Ministry, Brooks oversaw economic development projects, organized Head Start centers and helped start the Mound Bayou Community Hospital and Health Center.
Reed presided as a pastor of Jackson's first integrated church for more than 20 years and spearheaded a housing construction project in McComb for families displaced by Hurricane Katrina. As Voice of Calvary Ministries' president, Reed champions the expansion of home buying for low-income Jacksonians.
The Jackson 2000 Friendship Ball honors the two men for their racial reconciliation work Saturday, March 3, at Hal & Mal's (200 S. Commerce St.). Hors d'oeuvres and music by These Days with Jewel Bass will be provided. Tickets are $20 ($10 with a student ID). The event benefits Parents for Public Schools and Students With A Goal (S.W.A.G.). For tickets, contact Todd Stauffer at 601-362-6121, ext. 17.
More like this story