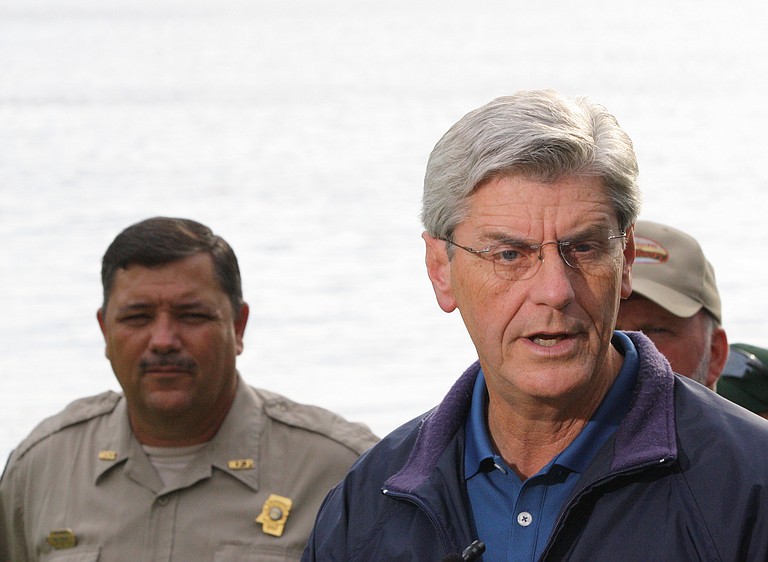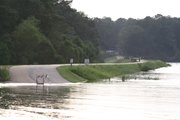 Emergency crews continue to relieve pressure on the dam--an earthen levee--at Percy Quin State Park and prepare for a controlled release of the pressure Tropical Storm Isaac put on it.
A breach of the dam is unlikely now, as the Mississippi Emergency Management Agency reported the water level of Lake Tangipahoa dropped 2.4 feet between 9 p.m. Thursday and 6:15 a.m. Friday.
Crews from MEMA, the Mississippi Department of Environmental Quality, the state Department of Transportation, the U.S. Army Corps of Engineers, the National Guard, and the Mississippi Department of Wildlife, Fisheries and Parks are all on scene today pumping water over an emergency levee and preparing the dam for a controlled release.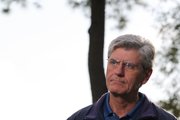 Gov. Phil Bryant toured the area with engineers and emergency personnel Thursday afternoon. Crews will move part of the dam road and release water there, lowering the pressure on the dam and allowing water to flow through at a safe pace, Bryant said.
Dusty Myers, dam safety engineer for the Department of Environmental Equality, said late Thursday that residents in Pike County should stay away from their homes until the controlled release is complete and the water recedes. He said the evacuations in Louisiana were no longer necessary, because the dam will not break. The controlled break will not release enough water to cause flooding on the Tangipahoa River as far south as the Louisiana-Mississippi border, Myers said.
Myers said he expects crews to start the release late Friday. Once completed, the release will allow crews to repair the dam and prevent future breaks.
The worries about a breach of the dam began early Thursday morning as part of the land-based structure began to slide into the river below. Tropical Storm Isaac caused the slide, as it dropped as much as 10 to 15 inches of rain on the area. County and city officials, including the sheriff's department and fire fighters, responded Thursday morning and began pumping water over the levee to release pressure.
The National Guard came in later Thursday and began dumping gravel and heavy stones onto the damaged area via helicopter to prevent the slide. MDOT brought tractors with hoses hooked up to the scene to pump water out of the lake after water covered the road to the dam, preventing fire trucks from reaching it.
Local officials urged about 20 families to evacuate their homes south of the lake in Pike County on Thursday. Officials in the town and parish of Tangipahoa, La. ordered thousands to evacuate their homes as reports of a possible break in the dam came in.
The 700-acre Tangipahoa Lake sits in the Percy Quin State Park in Pike County, just south of McComb.